INTEL: Ranking the contenders for 4-star Kaden Cooper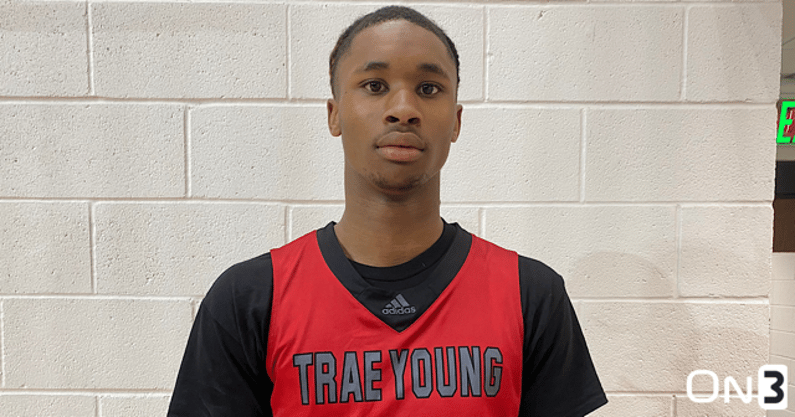 Kaden Cooper is the No. 42 ranked player in the 2023 On3 Consensus. The 6-foot-5 wing averaged 10.3 points, and 6.4 rebounds with 2.1 steals and 2.0 assists on the Adidas 3SSB Circuit with Team Trae Young this summer.
His recruitment blew up in April; the four-star added 29 offers over the past six months. On July 30, Cooper released his final ten schools; Kansas State, Gonzaga, LSU, Kansas, Alabama, Oklahoma State, Oklahoma, Georgia Tech, Memphis, and Texas.
Cooper says he has finished his visits, taking all five in all. The wing visited Gonzaga and Oklahoma during his junior year and Kansas, LSU, and Alabama. He tells On3 that he plans to commit this month. So with things winding down, let's go through all the intel to rank the contenders.
1. Alabama
It is the speed and the style of play that Cooper talked about with Alabama. He talked about how they have used players like him and the success they have had doing it.
Alabama's chances: 80 percent
2. LSU
The relationship Cooper has built with assistant coach Ronnie Hamilton leads the way here. There is a trust factor that has been developed in the process.
LSU's chances: 10 percent
3. Oklahoma
Cooper is from Ada, Oklahoma, so he grew up around Oklahoma fans. The style of play intrigued Cooper, and there was a familiarity with the people around campus.
Oklahoma's chances: 10 percent
Final thoughts
Kaden Cooper spoke extensively about the style of play at Alabama. The Crimson Tide finished top ten in NCAA D-I in three-pointers attempted per game and top 15 in points scored per game.
LSU is making a push; head coach Matt McMahon has done a great job explaining their system and how they plan to play Cooper. Assistant Ronnie Hamilton has built a relationship. They will continue to battle.
The big question with Alabama is how would Cooper fit with the recent commitment of Davin Cosby and 2023 four-star recruit Mouhamed Dioubate. Sources tell On3 there is a clear path to being able to play them all together. When we discussed Cosby with Cooper, he saw no problem with the fit.
The Gonzaga fire has dimmed some, Kansas took the commitment of two four-star perimeter players, and with Cooper off at boarding school the last couple of years, sources suggest the lure to playing at home in Oklahoma is not as strong.
A player's recruitment is never over until the ink is dry on the LOI. Multiple programs listed are still fighting for Cooper; however, as things stand, Alabama has gained a lot of momentum over the last couple weeks. With the intel gathered, when pressing 'publish' on this writing, Nate Oats looks to land his fourth commitment in the 2023 class.
On3's Recruiting Prediction Machine
I have placed my expert pick in On3's Recruiting Prediction Machine (RPM) for Kaden Cooper to choose Alabama. I set my pick with a 75 confidence level.
The On3 engineering group teamed up with Spiny.ai to create the industry's first algorithm and machine learning-based product to predict where athletes will attend college. Starting from the ground up, On3 built an entirely new product that utilizes data, human expertise, and machine learning.