4-star Kaden Cooper talks finalists and commitment time frame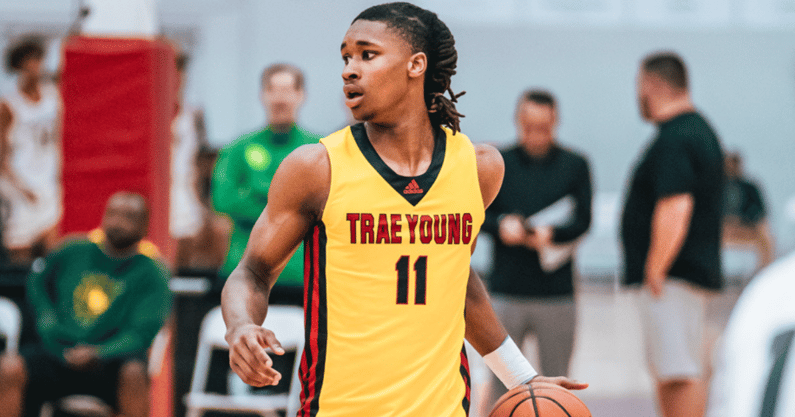 Kaden Cooper is the 2023 On3 Consensus No. 42 overall player in his class. The 6-foot-5 wing exploded this summer and added over 20 offers with his play on the Adidas 3SSB Circuit with Team Trae Young.
"I play fast-paced and can make the right passes," Cooper told On3. "I can rebound, shoot it a little bit and really like to get out in transition and make things happen. I'll watch a lot of Marcus Smart. He is really aggressive on defense and takes – and makes – the right shots on offense when they are there."
He was a standout performer at the Wootten Top 150 Camp this past weekend. On3 caught up with Kaden Cooper this weekend as his recruitment winds down.
"I have a top ten out right now. I took official visits to Oklahoma, Gonzaga, Kansas, LSU, and Alabama," Cooper said. "I'm not going to narrow things down again, and I don't have any visits planned. I'll commit this month and sign in the early period."
Cooper talks visits
Alabama: "I didn't realize how much they used big guards there; someone said they are "Big Guard U" there. They have a lot of size and are very fast in transition, and run a lot of pro sets. The coaches said they like I can get up and down the floor, and I'm a hard-working two-way player.
"I've never played with Davin (Cosby); from what I know, he knows how to play the game and can shoot the ball. I think he fits their play style and will do really well there."
LSU: "They play fast and have a good team. I think they're still figuring out the pieces to their team to become that successful program they want to be, but overall I love the coaching staff. I got along great with everyone, the relationship is there, and I think it is overall a great school.
"They use a lot of guard play; everyone gets a chance to showcase what they can do in their system. They play a lot out of the pick and roll, and I think if I went there, I would succeed in that system."
Kansas: "They're very tough. No matter if they make a bucket or don't, they're getting back on defense and planning to get the ball back. They play fast, but their game is slowed down in the half-court. They have a lot of weapons and know how to use them, which is why I think they're so successful.
"I feel like I can play in any system and with anyone. I like Chris's (Johnson) game; he is a smart player with a high IQ. He knows when to make the right pass. I haven't seen Jamari (McDowell) as much, but I think he fits the system well. Them committing there doesn't affect my decision."
Gonzaga: "They're not a very big school, I think coach said they had like 6,000 students. When I was there I felt very isolated, I like that environment. It's a place where I can go, grow, and get better; just work on my craft with no distractions."
Oklahoma: "I actually haven't visited Oklahoma that much, so that was my first time on campus. I like the way they run things there, they're a big name but a small school and very humble about what they do. I like the environment, it fits my culture you know coming from Oklahoma."
Cooper talks NIL
"NIL is not really a factor in my head," Cooper said. "I don't care how much money they throw at me because if I go somewhere I know, I can succeed, the money will be there. Honestly, NIL is so big right now the money is going to come, so I'm focused on the bigger picture.
In his words
"All the schools that are still in the running," Kaden Cooper said. "I feel that with my work ethic, I'll be able to play my freshman year. It will really revolve around what school feels the most comfortable for me and where I think I will succeed the most.
"My dream is to be a pro. Whichever school I choose will be the school that I think can get me there the fastest. I'm not really a ball-dominant person; I can play with or without the ball, so playstyle is not really that big of a factor. Personally, I'd like to play a little more uptempo, but overall it doesn't really matter that much."
Scouting report
Kaden Cooper is a lengthy and highly-explosive wing. At 6-foot-5, he has a projectable frame with broad shoulders, one that looks like it will easily add weight in a college strength and conditioning program. Cooper has upside as a perimeter team defender; his quick twitch and length play well in the passing lanes. Offensively, the jump shot is really developing. The mechanics are clean, and the release is becoming consistent. Always great in transition, Cooper moves well off the ball. The added threat of a jump shot makes him all the more a weapon. Cooper works hard and has high-level physical tools; there is an upside to go here with continued growth moving forward.