Kaleb Glenn, 2023 four-star, cuts list to 4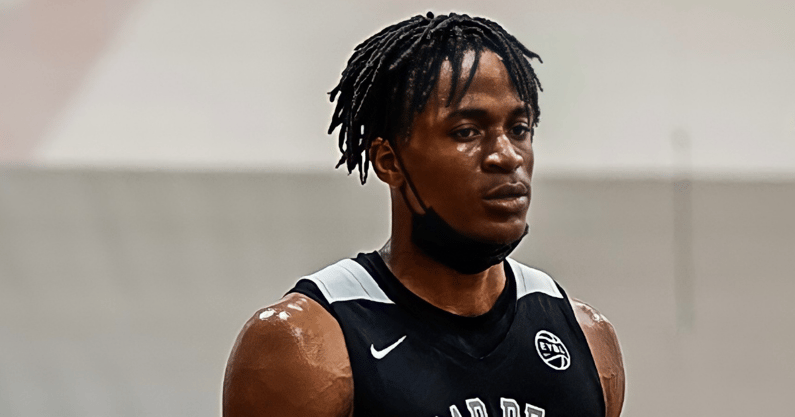 Kaleb Glenn, a 6-foot-6 small forward out of Louisville (Ky.) Male School tells On3 he is down to four schools – Tennessee, Texas A&M, Louisville, and Indiana.
Glenn has taken unofficial visits to both Louisville and Indiana. He's also set three official visits. He'll be at Louisville on Sept. 18, Indiana on Oct. 2nd, and Texas A&M on Oct. 8-10. Glenn also had an official visit set up for Tennessee on Sept. 11 but it will have to be rescheduled due to him having to take the ACT that day.
Reclassification to the 2022 class might be a possibility for Glenn. He says "Me and my parents have had talks about it, but it isn't something serious right now."
Kaleb Glenn discussed each option with On3.
Glenn on Tennessee
"Tennessee is a great school, a good basketball school," Glenn said. "They put a lot of players in the league. That's very appealing to me. They're a winning program too. Rick Barnes is a great coach. He coached players like Kevin Durant, PJ Tucker, and the list goes on. He's one of the top-10 winningest coaches in history too. I really like them."
Glenn on Texas A&M
"I'm really close with the Coach (Lyle) Wolf," Glenn said. "He's actually from Lexington. So there's like a Kentucky connect. They've been recruiting me really hard and saying I'm an important piece for them. They think I can change things around for them if I was to go there. I've never been to a Texas school so I'm very excited to get down there."
Glenn on Louisville
"Louisville…that's home," Glenn said. "Chris Mack and his staff have been on me since last year. They've been recruiting me hard. They want me to be the next NBA player out of Louisville. They have a long track record of getting players to the league. And they think I can be the next one."
Glenn said in a previous interview: "I've been watching Louisville since I was born. The city does really want me here bad. I hear it all the time." Both of Glenn's parents attended Louisville, and his father played wide receiver for the football team. The campus is only about a 20-minute drive, he says.
Glenn also mentioned in a previous interview: "Coaches automatically think I'm committing to Louisville just because it's home. But really, I'm open to anybody. Wherever is best for me."
Glenn on Indiana
Glenn recently went on an unofficial visit to see the Hoosiers.
"I got to meet Coach (Mike) Woodson and the rest of the staff. They have a really good staff. Most of them could be head coaches anywhere else. Woodson is trying to get Indiana back to where it was and get that NBA style going. I think that would fit me well too."