Kansas City Chiefs select Kentucky offensive tackle Darian Kinnard in 2022 NFL Draft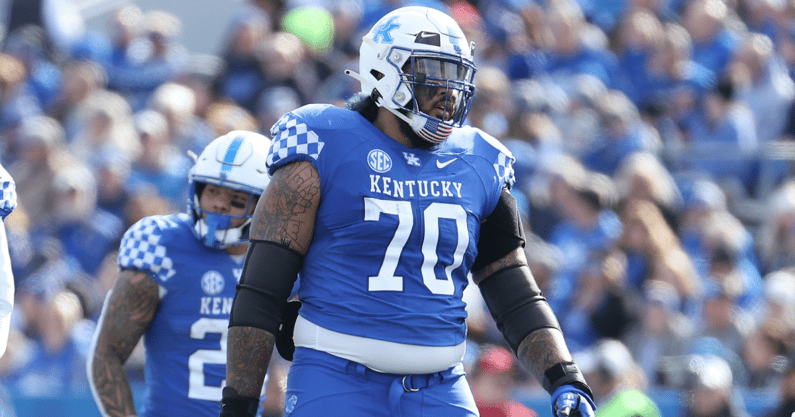 The Kansas City Chiefs were impressed with what they saw from right tackle Darian Kinnard at Kentucky. A four-year player and three-year starter for the Wildcats, Kinnard only seemed to get better with each season in Lexington.
His dreams of a pro career came to fruition Saturday as the Chiefs selected him 145th overall in the 2022 NFL Draft.
Kinnard was a consensus first team All-American selection in 2021 while also earning first team All-SEC honors. He led the Wildcats with 30 knockdown blocks and was one of only three Power 5 offensive tackles to grade 85 or better in both run or pass blocking according to Pro Football Focus. The 6-foot-4, 345 pound tackle also won the Jacobs Trophy, given annual to the top offensive lineman in the SEC, this past season.
Darian Kinnard helped pave the way for a Kentucky offense that leaned heavily on running the ball. The Wildcats finished fifth in the SEC with just under 200 ground yards per game (199.8), and the offensive line was responsible for creating 3.14 yards per carry, fourth in all of FBS. It's no doubt that the presence of Kinnard played a big part in that.
A four-star recruit in the class of 2018, Kinnard ranked as the No. 15 offensive tackle and No. 227 overall player in the class according to On3 Consensus, a complete and equally weighted industry-generated average that utilizes all four major recruiting media companies. In addition to Kentucky, he also received offers from Penn State, Missouri, UCLA and many others.
ESPN scouting report on Darian Kinnard
Despite his impressive college accolades, Kinnard didn't have the best showing at the NFL Combine. According to analytics expert Kent Lee Platte, he earned Relative Athletic Score of 3.28 out of a possible 10, which ranked 771st out of 1,146 offensive tackles from 1987 to 2022.
Because of his below average athleticism, ESPN's scouting report on Kinnard predicts that he could move to the guard position where his strength would be utilized more effectively.
"Kinnard, a three-year starter at right tackle, is one of the strongest and nastiest blockers in this class," his final draft assessment read. "He has excellent height and bulk for a guard and also has outstanding arm length and massive hands. His testing numbers at the combine were below-average, however. In pass protection, he has a long and wide frame to get around. He can stonewall powerful rushers with ease, but his technique needs major refinement, and he's heavy-footed. He can be slow to get set, is late with his punch and his hand-placement is too wide, and he struggles mightily to mirror-and-slide versus quicker pass-rushers.
"Those are the major reasons why he needs to move inside to guard. As a run blocker, he is a great finisher. Kinnard grades out as a rookie backup but should push for a starting guard job after some refinement.