Karter Knox, brother of former UK star Kevin Knox, reacts to Kentucky offer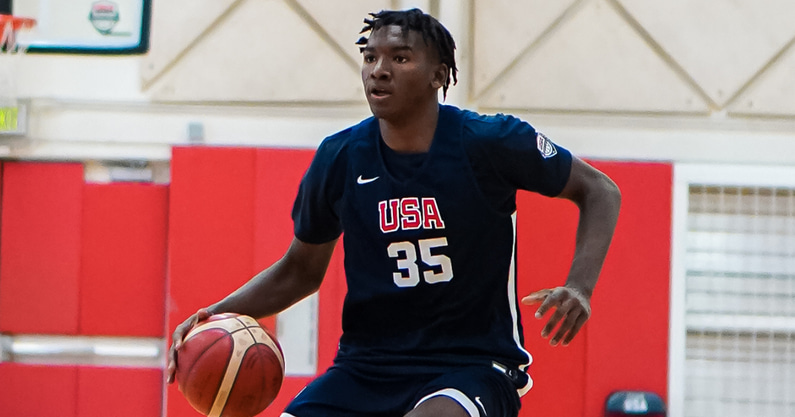 Karter Knox is the No. 10 overall prospect in the class of 2024, according to the On3 Consensus.
In the last 30 days, the 6-foot-5 small forward out of Tampa (Fla.) Catholic has picked up offers from Kentucky, Louisville, Texas, Kansas, Auburn, LSU, Georgetown, and USF.
One of those programs stands out from the rest — Kentucky — the program his older brother, Kevin Knox attended before shipping off to the NBA.
Coach Calipari and UK extended the scholarship to Karter on June 15th, the first day college coaches are allowed to have direct contact with their 2024 recruits.
Karter discusses Kentucky offer
When I asked Karter what it was like to receive an offer from Kentucky, I wish you could've seen his expression. He had a look of disbelief and joy, all wrapped into one emotion.
"Pshh… Man. Coach Cal called my pops and got straight to it," Knox said. "He gave me the offer and told me to keep working. He said I can be better than my brother, so you know when he says that, I'm definitely going to be better than him.
"It's just a blessing. I was just happy and grateful for that offer."
Earlier this month, Karter spoke to On3, giving his thoughts on the Kentucky program.
"Kentucky is a good program," said Knox "My big bro went there so it's a good program and a good atmosphere. Kentucky is all basketball really."
Karter's big brother, Kevin, also filled in his little brother on the Kentucky program.
"Kev was just telling me about the program, the arena, Rupp, and all that. Just how the program is above average."
Kevin Knox was a unanimous five-star star recruit in the class of 2017. He committed to the Wildcats over Duke, Florida State, Missouri, and North Carolina. Knox also turned down a professional offer to play in the Chinese Basketball Association as well. As a freshman at Kentucky, he led the Wildcats in scoring, averaging 15.9 points per game. UK went on to win the SEC tournament but fell to Kansas State in the Sweet 16 by three points. At the conclusion of the season, Knox declared for the NBA draft, where he was selected as the ninth overall pick to the New York Knicks, where he spent his first four seasons. Knox now plays for the Atlanta Hawks.
Kenny Payne, Louisville offer Karter Knox
Just a couple of weeks ago, Karter discussed his recent offer from Louisville with On3. He referred to the Cardinals head coach Kenny Payne as "family". For the full story, click here.