Report: Kayvon Thibodeaux to miss time following controversial cut-block against Bengals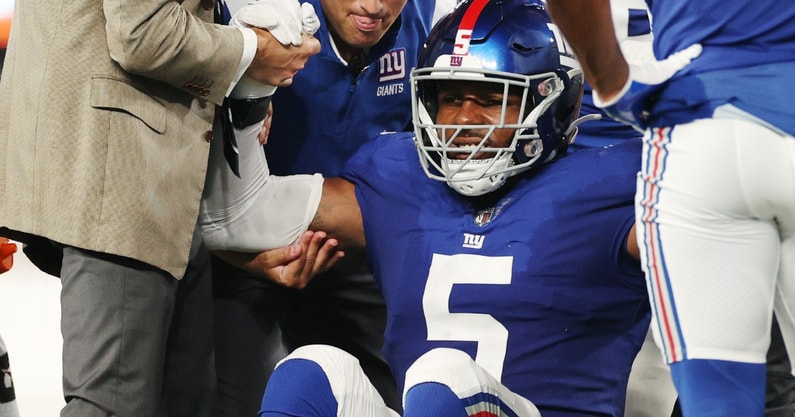 New York Giants first round pick Kayvon Thibodeaux hit a snag in his preparation for the beginning of his NFL career during Sunday's preseason showdown against the Cincinnati Bengals.
As Thibodeaux slowed up, former LSU tight end Thaddeus Moss dove at his legs to attempt to block the former Oregon star. Immediately, Thibodeaux grabbed at his legs, writhing in pain. While the pass rusher seemed fine on the sidelines afterwards, the play made rounds on social media, and multiple personalities panned the play from Moss.
Now, Adam Schefter on ESPN has revealed the former Oregon star will be forced to miss some time because of the play.
"Initial tests revealed that Giants' DE Kayvon Thibodeaux suffered a sprained MCL that is expected to sideline him 3-4 weeks, per source," tweeted Schefter. "His ACL and meniscus were intact.
"Giants are still hopeful that he will be ready for the regular-season opener vs. the Titans, per source."
While it isn't the worst news for New York, they for sure were hoping for Thibodeaux to not have to miss any time. Regardless, it's evident it could've been much worse for the first round pick.
Kayvon Thibodeaux has shown in his limited time on the field that he's going to be a problem for opposing offenses in the NFL, but he's going to have to focus on getting healthy before the regular season if he wants to show his stuff.
CLICK HERE to subscribe for FREE to the On3 YouTube channel
More on Kayvon Thibodeaux, New York Giants
Moreover, the Giants selected Thibodeaux No. 5 overall in the 2022 NFL Draft and have high expectations for him this upcoming season and going forward. An Oregon product, Thibodeaux emerged as one of the most explosive edge rushers in college football over the past three season.
As a freshman in 2019, he burst onto the scene with 35 tackles, 14 tackles for loss and nine sacks. In 2020, he had 42 tackles with 9.5 tackles for loss and three sacks. This past season, Thibodeaux had 49 tackles, 12 tackles for loss and seven sacks, also forcing two fumbles.
Despite those impressive numbers, Thibodeaux knows he has a lot to learn from Giants veterans.
"It's been great learning from the guys," he told Cersoslmo. "One person can't do every move, so it's been understanding what I can do and what's good for me and my game. Then it's fine-tuning everything I have. … The biggest challenge (heading into my rookie season) is understanding I can't control everything. I can only control what I can control. Even though I want to do as much as I can, I can only do the task at hand, my job."
Thibodeaux is expected to step in and contribute right away for a Giants defense that ranked 22nd in the NFL with 34 sacks this past season. New York also has a new head coach in Brian Daboll and defensive coordinator in Don "Wink" Martindale, the latter hoping to unlock the unlimited potential of Thibodeaux.