Kelly Graves says Sedona Prince's recent struggles aren't cause for concern; 'she'll be fine'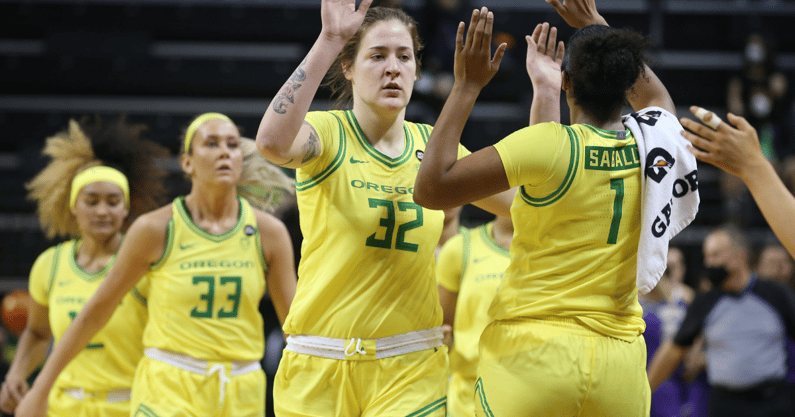 Sedona Prince is one of the brightest stars in college basketball.
Oregon's 6-foot-7 junior was a preseason all-conference pick, the Ducks' third-leading scorer last season, and has amassed more than a quarter-million followers on Instagram while excelling on the court and advocating for college athletes' rights to profit from name, image, and likeness opportunities off of it.
At the start of the season, it seemed as though the Ducks' standout forward would be an essential player for Oregon if it hoped to reach its goals — especially with starters Te-Hina Paopao, Nyara Sabally, and Endyia Rogers all missing significant time due to injuries.
But during Oregon's two most recent games — a win over Washington last Friday and another over Utah on Wednesday — Prince has hardly factored for the Ducks.
She played 14 minutes at Washington last Friday and went 0-for-6 with one rebound, and went 0-for-1 with three rebounds against the Utes Wednesday.
Throughout her career, Prince has averaged 20.8 minutes and 10.5 points, and prior to last week, she had never been held scoreless while playing for the Ducks. So, it has raised alarm bells among some Duck fans after watching her impact diminish recently.
According to Oregon coach Kelly Graves, though, there is no cause for concern.
"She'll be fine," Graves said Wednesday. "We don't win (over Arizona or UConn earlier this month) without her. She had a great weekend, now she's struggled for a couple of games — part of it is she hasn't played a ton. But next game she might play 30 minutes and be great.
"I don't read too much into it. I might just need to pick her up a little bit — maybe she's feeling down about her performance, and she should not. She still got three rebounds today, and there were some good things that she did."
The reason Prince's role was reduced Wednesday wasn't due to her poor performance last time out. Rather, the Utes' small-ball lineup presented an unfavorable matchup for her.
"It's not gonna be every game, but (Utah) were going with four guards — sometimes five," Graves said. "To be as effective as we wanted at the other end defensively, it was gonna be difficult to play with a bigger lineup. We wanted to do it, and when we tried to do it a couple of times, it wasn't that effective."
Forward Nyara Sabally played 27 minutes and led the Ducks with 15 points Wednesday, while Prince and forward Kylee Watson both saw far fewer minutes than usual.
Earlier this month, Prince missed Oregon's games at Cal and Stanford due to COVID-19 protocols. She returned the next week and dropped 16 points in the Ducks' win over Arizona, and 14 against UConn two days later. Prince came off the bench in both games and served as a super-sub of sorts for the Ducks.
When Graves spoke with reporters last week, he said he wasn't sure if she would continue in that role, or eventually return to the starting lineup.
"I really haven't talked to her about it, but maybe she kind of enjoys coming off the bench, so to speak," Graves said last Thursday. "Some people are like that — Kevin McHale worked his way into the hall of fame as a sixth man, so sometimes people are more comfortable and have a chance to see what's going on.
"But if you notice, Sedona is usually on the floor at the end of the game. We don't really concern ourselves with who is starting."