3-star safety Kennedy Urlacher announces commitment date, top six schools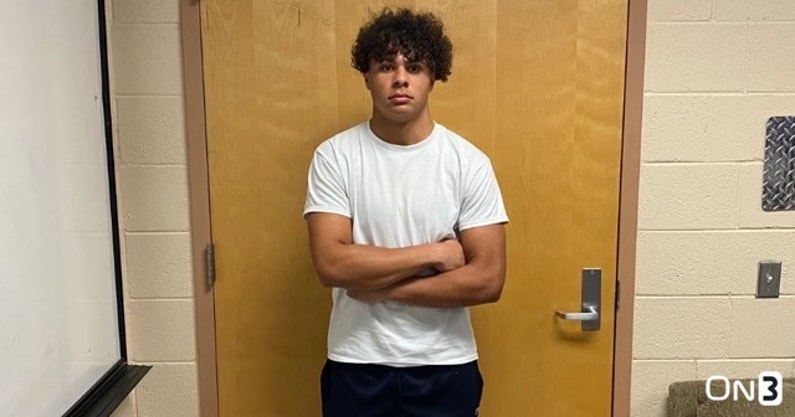 Chandler (Ariz.) three-star safety Kennedy Urlacher recently visited four schools in less than two weeks. Now, he is ready to focus on a select group of programs.
Urlacher revealed his top six schools on Friday: Notre Dame, TCU, Penn State, Miami, Kansas State and Illinois. On3 has confirmed that he will be announcing his commitment on May 1 at 6:00 p.m. Eastern time.
"I like the contact these schools have with me," Urlacher told On3. "Their football programs are good. I also get along with their coaches."
The 6-foot-1, 180-pound defensive back has visited all of his finalists except for Illinois and Penn State. Meanwhile, he was recently at TCU (April 20), Notre Dame (April 15) and Kansas State (April 8). Urlacher also went to Miami on March 21.
Urlacher is confident that each member of his top six puts safeties in position to make plays.
"I've been enjoying the recruiting process," said Urlacher, On3's No. 62 safety and No. 12 player in Arizona. "Now, it's time to just keep narrowing it down."
Urlacher discusses his top six schools
Illinois: "They've been really good at developing defensive backs and safeties. They're really diverse with their safeties, as well."
Kansas State: "I feel like I'd be a good fit in their defense. I enjoyed being over there."
Miami: "I like every single coach over there. It's also a program on the rise."
Notre Dame: "They recruit me hard. I really like the vibes over there."
Penn State: "They're a good football program. I like the way they play."
TCU: "They are a really good football program. I enjoyed talking to the coaches."
Urlacher enjoyed visiting his finalists recently
Notre Dame was one of multiple schools to host Urlacher this month. He was impressed by what the Fighting Irish provide on and off the field.
"I was with everyone," Urlacher told Mike Singer of Blue and Gold on April 19. "They were telling me that you can play big football a lot of places, but not a lot of schools have the education that Notre Dame has."
"They're definitely going to be a good team," he added. "You can tell the difference between high school and college. The safeties are fast and physical."
Urlacher also shared that Notre Dame head coach Marcus Freeman is his "favorite coach I've talked to so far — head coach-wise." The three-star also likes Miami head coach Mario Cristobal, telling On3 on March 22 that Cristobal wants to "keep building" his alma mater.
Meanwhile, Urlacher also enjoyed his trip to TCU. The Horned Frogs, who made a surprising run to the College Football Playoff National Championship game last season, see Urlacher playing their STAR position.
"They're a top program now," Urlacher previously told On3. "You can definitely tell that they are trying to make something big and keep it like that for a while."