KenPom projects every team's chances in Pac-12 conference tournament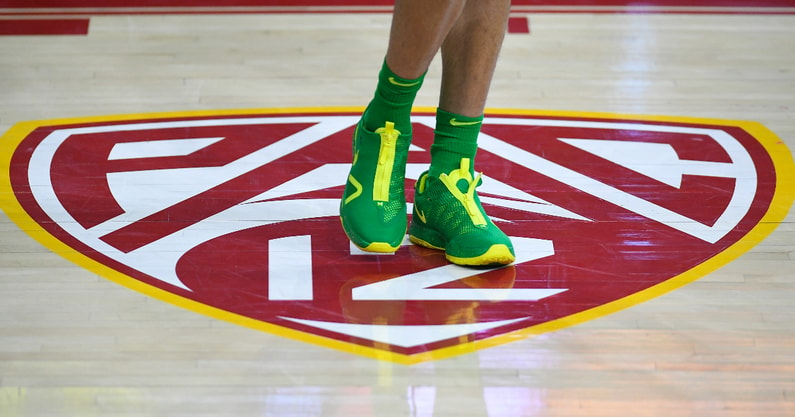 The Pac-12 Tournament field is set, and with a competitive 12-team field comes an exciting tournament on the horizon.
The first round of the Pac-12 Tournament is set to kick off on Wednesday, and it will feature the No. 5 through No. 12 seeds. The first four seeds will have byes in No. 1 Arizona, No. 2 UCLA, No. 3 USC and No. 4 Colorado.
Ahead of the Pac-12 Tournament, college basketball statistician KenPom projected every Pac-12 team's chances at winning the conference tournament. His findings, which he posted on Twitter, are as follows:
LOOK: Bracket revealed for Pac-12 men's basketball tournament
With the college basketball regular season in the books, conference tournaments are now set to take place all across the country. While some leagues are already playing their tournaments, the Power Five conferences – including the Pac-12 – are releasing their complete brackets for their upcoming conference tournaments.
The Pac-12 released its men's basketball tournament bracket on Saturday night, with the tournament set to take place Wednesday, March 9 through Saturday, March 12 at T-Mobile Arena in Las Vegas. The first round will open on Wednesday and continue with the quarterfinals on Thursday, semifinals on Friday and conclude with the championship on Saturday.
Arizona – which went 28-3 overall with a 18-2 mark in Pac-12 play during the regular season – earned the top seed for the conference tournament, meaning the Wildcats received a bye into the quarterfinal round. Alongside Arizona, UCLA earned the No. 2 seed, USC is the No. 3 seed and Colorado is No. 4.
With those four teams earning the top four seeds, the remainder of the field looks like this: No. 5 Oregon, No. 6 Washington, No. 7 Washington State, No. 8 Arizona State, No. 9 Stanford, No. 10 California, No. 11 Utah and No. 12 Oregon State.
Here's a look at the complete bracket for the Pac-12 Tournament.
Pac-12 Tournament bracket
FIRST ROUND
Wednesday, March 9
No. 8 Arizona State vs. No. 9 Stanford, 3 p.m. ET
No. 5 Oregon vs. No. 12 Oregon State, 5:30 p.m. ET
No. 7 Washington State vs. No. 10 California, 9 p.m. ET
No. 6 Washington vs. No. 11 Utah, 11:30 p.m. ET
QUARTERFINALS
Thursday, March 10
No. 1 Arizona vs. No. 8 Arizona State/No. 9 Stanford, 3 p.m. ET
No. 4 Colorado vs. No. 5 Oregon/No. 12 Oregon State, 5:30 p.m. ET
No. 2 UCLA vs. No. 7 Washington State/No. 10 California, 9 p.m. ET
No. 3 USC vs. No. 6 Washington/No. 11 Utah, 11:30 p.m. ET
SEMIFINALS
Friday, March 11
Game 5 Winner vs. Game 6 Winner, 9 p.m. ET
Game 7 Winner vs. Game 8 Winner, 11:30 p.m. ET
CHAMPIONSHIP
Saturday, March 12
Game 5 Winner/Game 6 Winner vs. Game 7 Winner/Game 8 Winner, 9 p.m. ET