5-star Kentucky commit Kiyaunta Goodwin posts clips from visit to Alabama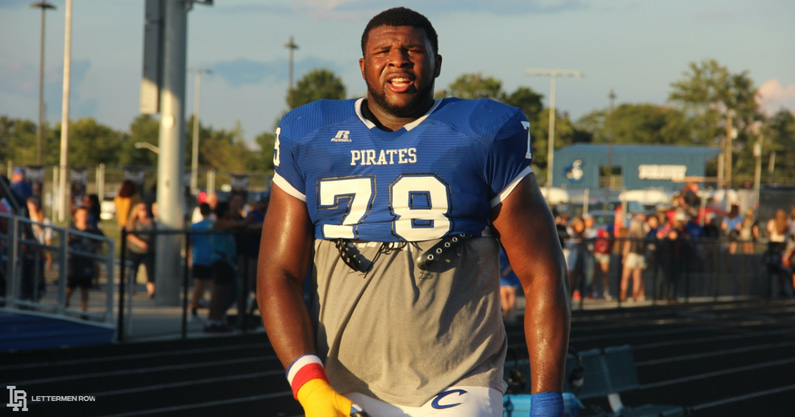 Charlestown (Ind.) High five-star offensive tackle Kiyaunta Goodwin has been a Kentucky commit since April. But that doesn't mean he has stopped his recruiting.
Goodwin is in the Yellowhammer State on an official visit for Alabama's game Saturday versus Tennessee.
He posted a photo with Crimson Tide offensive line coach Doug Marrone before the game, saying that Marrone's pitch "hits different."
Kiyaunta Goodwin's personal trainer Chris Vaughn told YourSportsEdge that Kentucky recruiting coordinator Vince Marrow was supportive of Goodwin visiting Alabama if it is something Goodwin wants to do.
"The whole thing with Alabama is to make sure he is doing his due diligence and making sure he fits the right fit for him and the four-year decision he's making," Vaughn said. "He needs to make he explores all possibilities and keeps open all his options."
Goodwin also posted a video of his hotel room and some recruiting materials Alabama left on his bed.
Alabama is not Goodwin's only planned visit
Kiyaunta Goodwin has been at Kentucky for each of the Wildcats' home games this season.
That will change as Goodwin plans visits to the Midwest over the next few weeks.
He is planning on visiting Michigan State for the Spartans rivalry matchup with Michigan next weekend. He is also planning to visit Ohio State for the Michigan State game on Nov. 20 and then visit Michigan for The Game the next week.
Kiyaunta Goodwin is one of Kentucky's most important recruits in years
Mark Stoops has orchestrated an excellent turnaround at Kentucky since taking over just under a decade ago.
The Wildcats started the season 6-0 before losing last week to No. 1 Georgia. But the momentum the team has built over the last few years is translating to the recruiting trail.
Goodwin's commitment is a key example of that. He is the best recruit to pledge his college career to Kentucky since Stoops took over.
Making sure he doesn't flip and ends up in Lexington will be important for the Wildcats leading into Early Signing Day.