All Kentucky men's basketball players will share in new NIL deal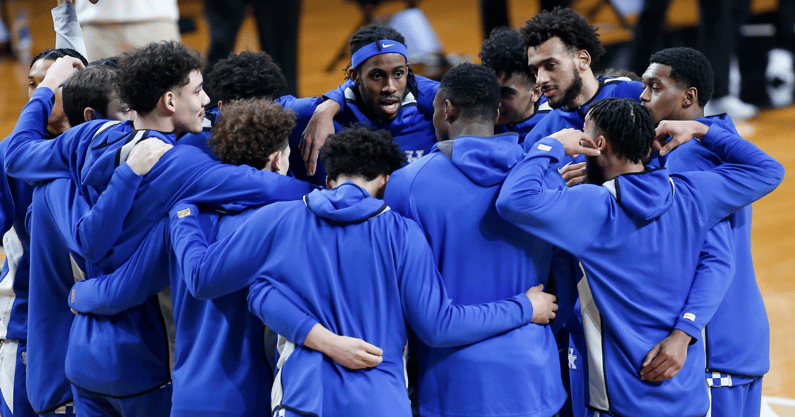 All University of Kentucky men's basketball players, including walk-ons, now will receive some compensation for their Name, Image and Likeness.
ProCampsU, a Cincinnati-based company that is partnering with college athletes to deliver memorable brand experiences and events, is partnering with KSR for a season-long NIL deal with UK basketball players. The focus of the partnership initially will center on two upcoming events: a Players First Fantasy Experience this weekend and a Fans First Fan Fest on September 18. 
Gregg Darbyshire, ProCampsU co-founder and chairman, declined to specify how much compensation players will receive. Compensation for each player will vary depending on their time commitment and other factors. 
"It's our plan to include all the eligible members of the team that we are working with, which would include walk-ons," said Greg Lazaroff, Vice President of Name, Image and Likeness at G3 Marketing, which has a season-long partnership with ProCampsU on team NIL activities for athletes. "It does come down to fair market value, and we try to work with everybody that we can."
ProCampsU is expecting to secure similar deals with at least five basketball teams for the 2021-22 season, including Cincinnati and Dayton. Darbyshire described ProCampsU and G3 Marketing as sister companies. 
"Our big focus is 'team,' " Darbyshire told On3. "We are not focused as much on individual opportunities. We want things that the players can all do together that are engaging."
This weekend, ProCampsU is helping to launch an adult fantasy camp where the current Kentucky men's basketball players are the talent and hosts. The camp, which takes place at Rupp Arena, is for adults who are at least 35. Adults pay $7,500 for entry. Participants will live the life of a college basketball player, receive coaching from current Kentucky players and attend social functions. 
UK players will be divided into four different coaching groups and paired with former coaches such as Seth Greenberg, Jerry Wainwright and Tom Ostrom and former athletes like Jordan Cornette, who was a two-time captain on Notre Dame's basketball team.
Darbyshire said several local and national charities will receive portions of the proceeds.
Monetizing their NIL
The "Fans First" Fan Fest will occur at the Clive M. Beck Event Center, which holds roughly 1,000 fans, at Transylvania University in Lexington. Organizers are exploring televising the event, which will feature various shooting contests consisting of fans and players and other related activities. It is not intended to rival Kentucky's longstanding "Big Blue Madness" tradition. 
The open-to-the-public event will allow fans a first look at this season's Kentucky team. Players will participate in a dunk exhibition, 3-point shooting events, skills showcase and open gym five-on-five games. Celebrity guests will take part as judges. 
"Players will just come out and have fun," Darbyshire said. "They'll have fun with the fans, they'll do the various contests, skills and competitions. We'll have a professional emcee. This is an engaging 90-minute program where fans can get to know the players a little better. There might be some trivia, as you see sometimes at pro sporting events."
Charities also will benefit from some of the proceeds. The presenting sponsor will be ProLink Staffing. Other headlining sponsors include Delta Dental, the Hatton Foundation and 9258 Wealth Management. 
Darbyshire said ProCamps has worked with coach John Calipari since he arrived in Lexington in 2009 on charitable initiatives, youth camps and fantasy camps for adults. Darbyshire said ProCamps also has worked with prominent pro players such as Kevin Durant, Kyrie Irving and Karl-Anthony Towns to help set up their respective camps.
He said Calipari is especially enthused about this partnership, which will benefit all Kentucky players, not just the most marquee names, to monetize their NIL. "He obviously can't be in any role to facilitate, but he's been very supportive," Darbyshire said. "We've worked with him for 10-plus years, so there is a trust factor there."