Kentucky assistant Vince Marrow slams Scott Satterfield tampering accusations toward Alabama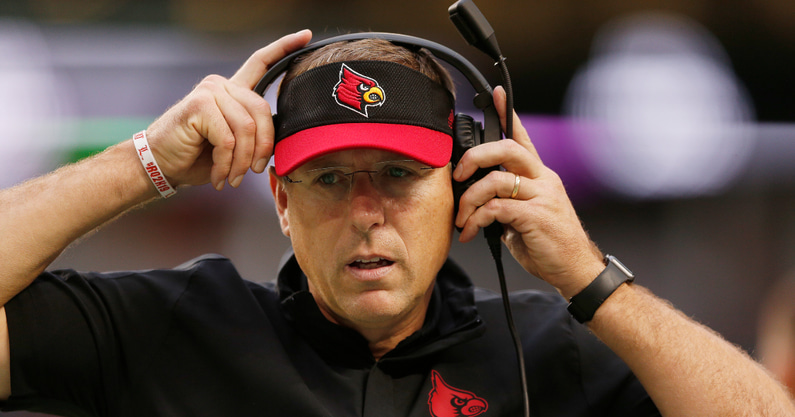 Earlier this month, Louisville coach Scott Satterfield accused Alabama and head coach Nick Saban of tampering after the Crimson Tide landed Tyler Harrell from the transfer portal. A Kentucky assistant coach didn't hold back with a response on Twitter about the situation.
Shortly after, Vince Marrow — Kentucky's associate head coach and tight ends coach — called Satterfield out for the allegation and compared Alabama to the 1990s Chicago Bulls. He argued players don't just leave programs because of tampering.
"Tampering if the product is good players wouldn't leave," Marrow tweeted. "It's like the Bulls in the 90.s [sic] players wanted to play for the Bulls but they accused Michael Jordan of tampering. We love our players and they love us. It's about relationship maybe some schools should try it."
In 12 games in 2021, Harrell had 18 receptions for 523 yards and six touchdowns for the Cardinals, who went 6-7 overall and 4-4 in ACC play.
More on the Scott Satterfield's tampering accusation against Alabama about Tyler Harrell
This got started when Satterfield hinted at some wrongdoing by Saban and Alabama after Harrell committed to the Crimson Tide. But the same day Harrell entered the portal, a report connected Harrell to Alabama — which led Satterfield to give the implication in an interview with 247Sports.
"I think it's not only him, it's happened before here," Satterfield said. "Last year, we had a few guys that jumped into the portal and the next day they're announcing where they're going. You can look at that and know that something went on before they were in the portal."
Saban then issued a response of his own, defending his program and denying any tampering by him or his staff.
"We don't tamper with anybody, so I don't know about anything or anybody that tampered with him," Saban said at the Regions Tradition Pro-Am.