7 for 7: Key storylines that will define recruiting's final week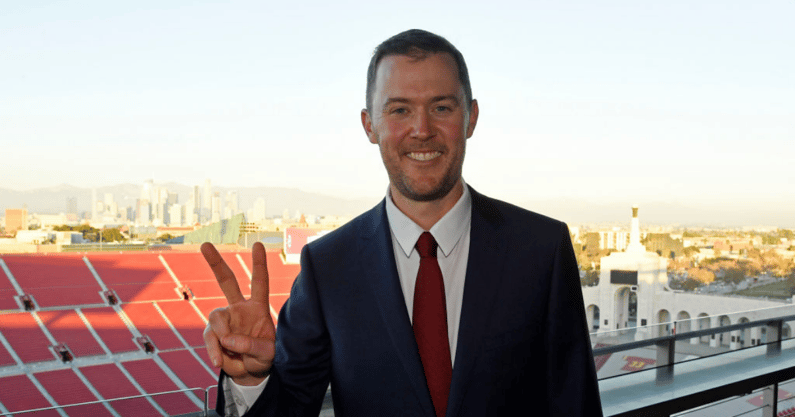 We're just seven days from the beginning of the early signing period. There will be some top recruits, largely because of the uncertainty with coaching changes, who will wait things out. But around 90% of recruits will treat December 15 as signing day. Here are seven storylines that will define the final seven days before signing day.
What happens with Walter Nolen in the next 7 days?
Five-Star Plus+ defensive lineman Walter Nolen sent recruiting shockwaves throughout the college football world with his commitment to Texas A&M. But the Aggies continue to fight Tennessee to keep Nolen on board.
That's especially true after Nolen's visit last weekend to Knoxville. After the visit, Nolen's father said his son still has a lot of thinking to do.
"Anything can still happen," Walter Nolen Sr. told On3's Chad Simmons on Sunday afternoon. "I would say he is pretty strong to Texas A&M, but he is a kid. We see different recruits in football and basketball commit and decommit all the time. It happens. One day he loves one school, then he changes his mind."
This feels like a battle that's going to come down until the paperwork is signed next Wednesday. The Aggies are the leaders and have the commitment for now. But do not expect the Vols to go away.
What does Domani do?
Five-Star Plus+ cornerback Domani Jackson narrowed his list to two schools – Alabama and USC – last week. He's now doing his final due diligence before announcing a decision.
Some of that research included a return visit to USC for a recruiting event dinner this past Sunday hosted by new Trojans coach Lincoln Riley.
The first three players Riley flipped from Oklahoma to the Trojans – Los Alamitos (Calif.) High Five-Star Plus+ quarterback Malachi Nelson, Santa Ana (Calif.) Mater Dei four-star do-it-all weapon Raleek Brown and Los Alamitos High four-star athlete Makai Lemon – were in attendance.
Jackson is scheduled to return to the USC campus again for a second official visit this weekend, which is allowed because of the coaching change.
Can Riley swoop in to save the day for USC? Or will Nick Saban do what he always does by sealing the deal?
Who finishes with the nation's top recruiting class could come down to what happens with Jackson. Alabama might need Jackson's Five-Star Plus+ status to bypass Texas A&M.
Does Lincoln Riley close during final 7 days?
Speaking of Riley and USC, the early returns have been solid for the Trojans. Nelson, Brown and Lemon were monster gets that shifted momentum USC's way. But it's been a week since Brown jumped on board and the Trojans need to close strong during the final seven days to avoid finishing in the bottom half of the Pac-12 recruiting rankings.
The good news is that Riley is primed to close well. So many top targets, especially in the Southland, have USC on their shortlist. Plus, it helps that Oregon lost its coach just days before the start of the signing period.
Now it's just time to find out if Riley can lock them up like most insiders believe he will.
Boom or bust for Sooners?
Make no mistake, Brent Venables is the right man at the right time to reenergize Oklahoma's recruiting efforts. But things got off to a bumpy start when Five-Star Plus+ defensive lineman Gabriel Brownlow-Dindy shocked the college football world Monday by flipping his commitment from OU to Texas A&M.
The flip vaulted the Aggies to the nation's No. 1 class in the On3 Consensus Team Recruiting Rankings. It also forced the Sooners to quickly recalibrate their focus on the defensive line and extend some new offers.
The good news is that a majority of OU's commitments seem to be excited and ready to play for Venables. But many OU fans – and Aggies and Longhorns fans, too – will judge Venables on what happens during the next seven days.
We all know Venables is an elite recruiter. And he'll need to prove it again over the next week.
Does Texas A&M finish No. 1?
Texas A&M's defensive class is going to go down as one of the best in modern recruiting history. Currently, the Aggies' class is made up of 95% blue-chip prospects.
Brownlow-Dindy's commitment gives A&M pledges from five On3 Consensus five-star prospects:
At this point, only three schools have more than one five-star player committed in the 2022 class (Texas A&M, Georgia and Alabama). And realistically only Alabama has enough left on the board to potentially bypass the Aggies in the class rankings.
But what's scary is that there's room for Texas A&M to add even more elite players. Five-Star Plus+ linebacker Harold Perkins, five-star defensive ineman Shemar Stewart, Kentucky commit and five-star offensive tackle Kiyaunta Goodwin, five-star offensive tackle Kelvin Banks and four-star defensive lineman Anthony Lucas are a few who list the Aggies at or near the top of their lists.
"The Aggies aren't done yet," On3 National Analyst Gerry Hamilton said. "This is going to be a class they talk about for decades in Aggieland."
Will Marvin Jones Jr. go his own way?
Marvin Jones Jr., On3's No. 1 recruit, has so many family ties to Florida State. Jones' father, Marvin Sr., was a star linebacker for Florida State from 1990-92 before becoming a first-round NFL draft choice. His uncle, Fred Jones, played linebacker at FSU from 1983-86.
Many assumed throughout the process MJJ would end up in Tallahassee. One school that was pushing him in a different direction was Oklahoma. But now that lead recruiter Jamar Cain is joining USC's staff, the Trojans, not the Sooners, have become a factor in MJJ's recruitment. Jones arrived in Los Angeles late Monday for an official visit.
Was it too late for USC to get Jones to go away from the family ties? Or can somebody else, like Alabama and Georgia, reap the reward of Oklahoma's staff shakeup?
We'll get the answers to those questions in the next seven days.
Signing day surprises
It's hard to truly predict what surprises are in store. But know they're coming. History tells us there's another Jonathan Colon (Goggle him + Florida, recruiting newbies) or Alex Collins recruiting saga set to unfold that we don't see coming.
"You don't sleep the night before," former Colorado and Northwestern coach Gary Barnett said. "You show up about 6 in the morning, and it's the ones that don't come through that makes signing day one of the most difficult days ever to be a football coach. You just have to prepare yourself to know that anything that could go wrong often does."