Kirby Smart provides one NCAA rule he would change: Uniformity in NIL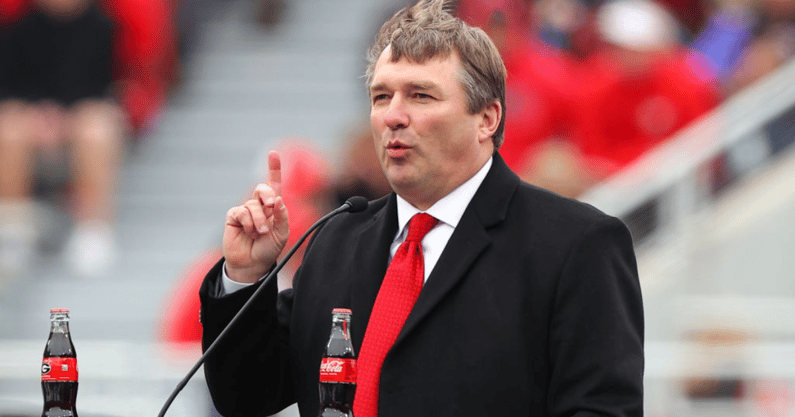 Coming off a national championship, Georgia players have seen their NIL values skyrocket in the new marketplace while looking to reset for the 2022 campaign. As coaches across the control call for rule changes off the field, rather than the usual case for something on the field, Kirby Smart has joined in the conversation.
During a live appearance on Cubelic and McElroy in the Morning from the Regions Tradition Pro-Am golf tournament in Birmingham, Alabama, Kirby Smart was asked what one rule he would change if given total control over college football for a day. His response this offseason came as no surprise.
CLICK HERE to get 30% OFF your Georgia Bulldogs National Championship apparel
"I would probably look into something uniform for NIL," said Smart. "There's a certain point where certain players have an ability to make a lot of money, and I think that's great for the guys that have earned it, that are marketable – just like the same guys in the NFL earn it and get it. There's certain positions that get more than others.
"But if you could make it a uniform deal where the schools that have the capacity to give – some schools can't afford to do NIL, some schools just don't have the support base to do that – but the schools that are marketable and they can do that, it would be nice to be able to give each one something. But not make it out of control that it effects the game. I think that's hard to do. It's hard to manage because every situation's different, every player's different. … Thing's change over the course of time and the market kind of sets itself in that regard."
Kirby Smart on golf game
Kirby Smart has taken up a side-career in golf this offseason, participating in the 2022 Peach Bowl Challenge charity golf tournament alongside Alabama politician Tommy Tuberville last week.
Now participating in his second event of the month, he took time between competitions to evaluate his game.
"My golf game was never very good, so COVID probably helped my golf game because we had a lot more time on our hands and downtime," Smart said. "We couldn't work with the student athletes, so I got to play more. Since COVID and recruiting started back up, it's non-existent. So it went from non-existent, to winning the National Championship, to remaining non-existent."
Last week's combined +44 as a pair will have Smart looking to improve this week and reach higher than fourth place at the Regions Tradition.