Kirk Herbstreit on USC and UCLA's moves to the Big Ten: 'I don't think we're done'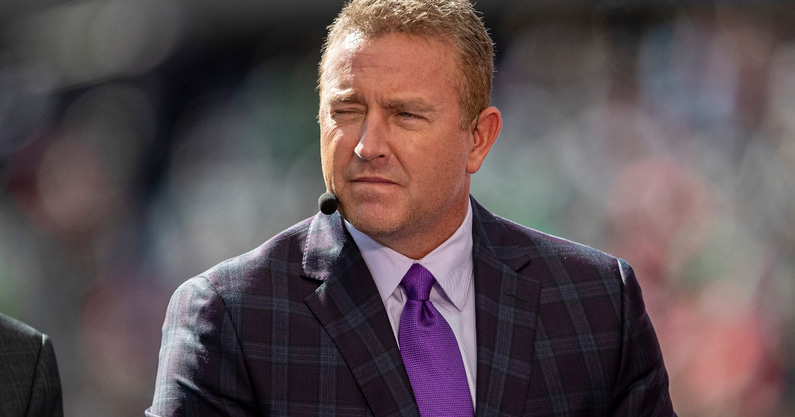 The college football landscape is filled with question marks after USC and UCLA reportedly decided to leave the Pac-12 for the Big Ten. It seems reminiscent of Texas and Oklahoma's decisions to leave the Big 12 for the SEC a year ago, and ESPN's Kirk Herbstreit doesn't think this is ending anytime soon.
Herbstreit appeared on SportsCenter with Kevin Negandhi and Elle Duncan to talk about the massive story and compared the future of college football to the NFL. He said he expects two divisions, similar to the AFC and NFC, and teams might end up getting left out as the ACC, Big 12 and Pac-12 try to keep up with the SEC and Big Ten.
"I think OU and Texas were the first dominoes and now USC and UCLA are the next dominoes," Kirk Herbstreit said. "And I don't think we're done. I think what Heather [Dinich] is saying is just the reality of our world. We don't have to agree with it, we can jump up and down if we're traditionalists. What in the heck's going on with OU and Texas in the SEC, and now USC and UCLA in the Big Ten? Keep your seatbelt on because they're not done. … It's very, very hard for the ACC, the Big 12 and the Pac-12 to compete with the big two.
"And honestly, I think that's our future. I haven't spoken with anybody, but I think that's where this thing, when the dust settles, that's where we're going to be. With about 50-55 teams, half of them in the Big Ten, half of them in the SEC. If we're simplifying it, think AFC, NFC in the NFL. Saturdays, you're going to have three divisions: West, Middle and East or South, and that's what it's going to be. I think there's going to be some very tough decisions because [it's] going to keep out a lot of teams that want to be a part of this future and they're not going to be invited. So it's going to be more of the haves or the have nots in college athletics."
Big Ten presidents are reportedly getting ready to vote Thursday night to add USC and UCLA to the league. However, it's expected to be a formality, according to The Athletic's Nicole Auerbach.