Kirk Herbstreit names top performing coaches from Week 2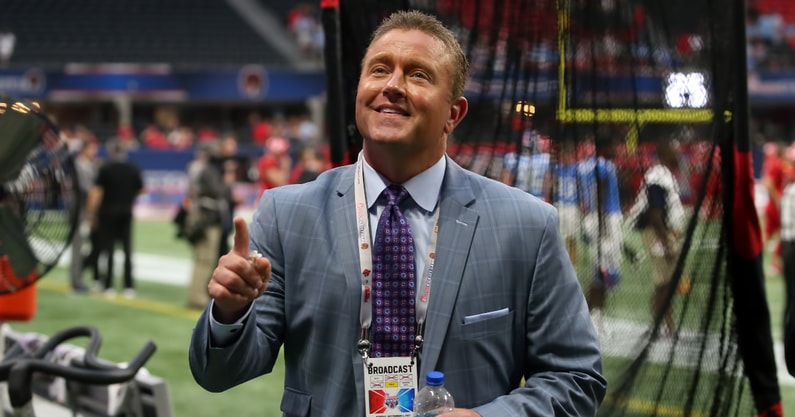 ESPN college football analyst Kirk Herbstreit on Monday named his top performing coaches from Week 2 of the 2021 college football season, which featured both head coaches and coordinators get the nod.
Herbstreit tweeted out his list, which includes his top six and a total of eight coaches, with two programs getting the nod for more than one member of its staff.
Here were Herbstreit's top performers from Week 2:
1. Mario Cristobal, Joe Moorhead (Oregon)
Oregon head coach Mario Cristobal and offensive coordinator Joe Moorhead got the top-ranked spot on Herbstreit's list, and for good reason — the then-No. 12 Oregon Ducks pulled off a stunning road upset of the then-No. 3 Ohio State Buckeyes on Saturday, and they did it without the help of two star defenders. Cristobal led the Ducks to a 35-28 victory over the Buckeyes, a game that looked to swing in the direction of Oregon as early as the second quarter, when the visitors notched their first touchdown. Moorhead was included in Herbstreit's list because the Buckeyes could not find an answer to Oregon's multi-faceted approach; quarterback Anthony Brown completed 17 of 35 passing attempts for 236 yards and two touchdowns, and Oregon was able to establish an effective run game, too, with CJ Verdell taking 20 carries for 161 yards and two touchdowns.
2. David Shaw (Stanford)
Stanford head coach David Shaw, much like Cristobal, pulled off an enormous upset on Saturday, as the Cardinal upset the No. 14 USC Trojans in a 42-28 rout. Shaw's offense was effective through the air, as Tanner McKee — making his first collegiate start — threw for 234 yards and two touchdowns, while the rushing attack was even more efficient, as Nathaniel Peat took six carries for 115 yards and a touchdown. Evidently, this was not a game that USC thought it should lose, and head coach Clay Helton was fired days after.
3. Kirk Ferentz, Phil Parker (Iowa)
Iowa and Iowa State faced off Saturday in what was a contest between two top-ten, in-state programs looking to call themselves the best in Iowa — and ultimately, No. 10 Iowa prevailed over No. 9 Iowa State 27-17, giving Iowa head coach Kirk Ferentz and defensive coordinator Phil Parker a top-three distinction on Herbstreit's list. Iowa's defense all but eliminated the Cyclones' passing attack, as Brock Purdy completed just 13 of 27 passes for 138 yards and three interceptions.
4. Kalani Sitake (BYU)
BYU head coach Kalani Sitake cracked Herbstreit's list after the Cougars barely snuck by the Utah Utes, beating the No. 21 foe 26-17. The BYU defense was impressive in their second game of the season, holding Utah's passing attack in check — as they threw for just 147 yards and a touchdown — while forcing two turnovers, one via fumble and one from an interception. The win launched BYU into the top-25 for the first time this season, as the Cougars slotted in at No. 23 on the AP poll.
5. Barry Odom (Arkansas)
Arkansas' big winner, according to Herbstreit, is not head coach Sam Pittman. Instead, its defensive coordinator Barry Odom, who led the Razorbacks defense to a smothering 40-21 victory over the No. 15 Texas Longhorns. Arkansas' rushing game generated four touchdowns to seal the deal for the Razorbacks, but its defense, perhaps more impressively, had ten tackles for loss, including three sacks, and recovered a strip-sack fumble off Texas quarterback Hudson Card.
6. Clark Lea (Vanderbilt)
The Clark Lea era got off to a rocky start at Vanderbilt, as the Commodores lost their season opener to ETSU, 28-3, despite entering the contest as three-touchdown favorites. But Lea and the Commodores came back with a vengeance in Week 2, beating the Colorado State Rams 24-21 and snapping a number of miserable streaks in the process. Vanderbilt had not won a game since 2019 and was riding an 11-game losing streak before Week 2. The come-from-behind fashion in which they won is likely what made Herbstreit give the first-year Commodore head coach the distinction, as Vanderbilt scored 17 second-half points to win the game.