Physical transformation creates Kiyaunta Goodwin ceiling as top NFL draft pick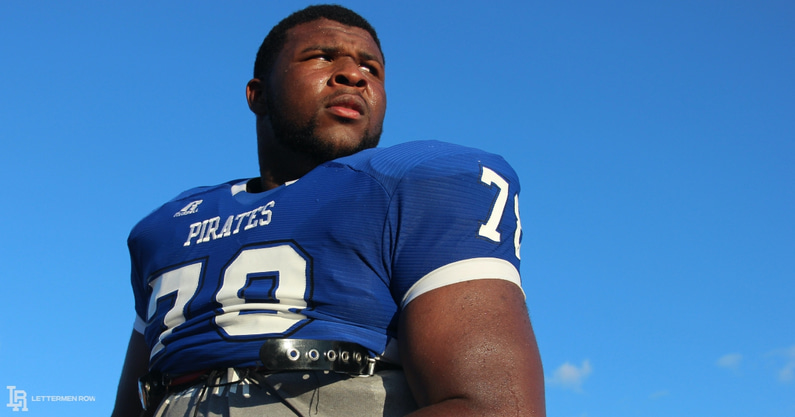 LOUISVILLE, Ky. – Kiyaunta Goodwin has a ceiling that could one day make him a first-round pick in the NFL draft.
But Goodwin, a Kentucky commitment in the class of 2022, was once about as far away from that potential as a kid of his stature could be. Turning himself into a player with that type of future began with a disciplined push.
Goodwin realized he had had enough in January 2020. He was tired of being a 6-foot-8 guy who weighed 425 pounds. There was no future for him if he continued down a path of overeating, lackadaisical training and going through the motions.
He made a hard decision that sparked a turnaround in his life. Goodwin, who now plays for Charlestown (Ind.) High, chose to move out of his mother's house at 15 years old and live with his trainer and mentor Chris Vaughn across the border in Louisville.
It was a decision made to instill a military-style discipline in both nutrition and exercise.
Kiyaunta Goodwin's massive physical transformation
Vaughn took over legal guardianship of Goodwin when he moved in, and the first few nutrition steps were brutal. Goodwin cut out the bad foods that he had relied upon, such as potatoes, pizza rolls, Hot Pockets, chicken wings and junk food. He began to eat every two hours to keep up his metabolism with foods like boiled chicken, rice, fruits (where he got almost all of his sugar intake) and at least two gallons of water every day.
There was the discipline of having to get up at 8 a.m. every single day, too.
"Not 8:01," Goodwin said. "Eight. It was really strict discipline because Chris knew what I wanted to do."
The workouts that followed were extensive. There were six separate sessions in which he went hard for two hours at a time, both with cardio and strength training.
He settled in nicely after the first week. He started seeing the results, noticed some fat burn off and loved what he started seeing in the mirror; his confidence grew as he started waking up at 5 a.m. every day. Then things tapered off a bit.
"Hitting a mental wall didn't come until after the first two weeks to a month after," Goodwin said. "The first two weeks were actually easy. I lost 50 pounds those first two weeks. There was extra fat and water weight that you don't need. Your digestive system adjusts. But then the weight loss just kind of stops. You don't lose anything for like a week, and you're like, 'Am I ever gonna lose another pound?' "
But Goodwin continued to push himself, and started losing five pounds one week, 10 pounds the next.
Goodwin eventually got down to 300 pounds by July. It was an astonishing 125-pound weight loss and body change in just seven months, and it gave him a foundation for where he could take his body next.
He started adding muscle and chiseled himself into where he stands today. He's a 6-8, 330-pounder who moves as well as any high school offensive lineman in the country and ranks as the No. 1 offensive tackle in the 2022 class.
"The kid lost 125 pounds. There's not a lot of grown-ups that can turn themselves around like that and save their lives," said Vaughn, who has worked with first-round NFL draft picks such as offensive tackles Jedrick Wills and Mekhi Becton. "A 16-year-old kid that can make that commitment, that says a lot about his trajectory. And speaking of his trajectory, I still stand by what I said in the past. He can be the number one pick in the NFL draft. He can be as good as he wants to be."
Goodwin wants to 'retire my mom'
The relationship between Kiyaunta Goodwin and Vaughn began when Goodwin was 8; his mother approached Vaughn at a youth football game and asked him to train her son.
Vaughn waited. He watched Goodwin for more than three years, learning more about him as a person. He learned more about how he needed to be coached between the lines and how he should be handled off the field. Vaughn learned the best discipline strategies and whether positive reinforcement worked.
When Vaughn started training Goodwin at the high school level, both knew the type of player he eventually wanted to become and the reasons why.
Goodwin has made it his life goal to provide generational wealth for his mom and the rest of his family. That's why he set out on that weight-loss journey.
"My mom sacrificed a lot for me," Goodwin said. "Just everything that she has done for me made me realize that I want her to be able to retire and live stress-free. I don't think a lot of mothers would let their 15-year-old child move out of their home and go live with somebody else.
"You're letting your child go change their life. And you can change your life. It's still something hard to do, especially when you're so used to raising them by yourself. It took a lot for her to let that happen, but she knew it was the best thing for me."
Goodwin also wants to be the first in his family to graduate from college. He wants to show people in his community and others from similar backgrounds that they can make something of themselves.
"I also wanna show people that are obese that they can turn their lives around," Goodwin said. "Obesity and depression go hand-in-hand. I just wanna show people that it's not hard to lose the weight. You've just gotta be consistent. And it takes people around you to help you believe in you and help move the needle for you. I'm just wanting to help the world and help people."
'I challenge him to be Tim Duncan'
To get there, Goodwin still has plenty of improvements to make, Vaughn says. He needs to better learn the nuances of the game, improve his second-level blocking on the perimeter, seal off linebackers more efficiently and understand how to use his hands in certain situations.
"I challenge him to be Tim Duncan," Vaughn said. "He was known as 'The Big Fundamental.' I challenge Kiyaunta that if he can be elite in his fundamentals, he can be a Hall of Famer one day.
"The guys that play 15 years in the NFL, that's how they win (one-on-one battles) and have long careers. Not just relying on brute strength."
Goodwin is going to one of the best schools to help him reach that ceiling.
"Kentucky has arguably the best offensive line in the country," Vaughn said. "They've been in the top five or top three every year. It's a blue-collar culture, and that's important to Kiyaunta. He prides himself on not just being big, strong, powerful. He works really hard, and that hard-working nature is gonna fit right in with Kentucky."