Kliff Kingsbury gives critical injury update on DeAndre Hopkins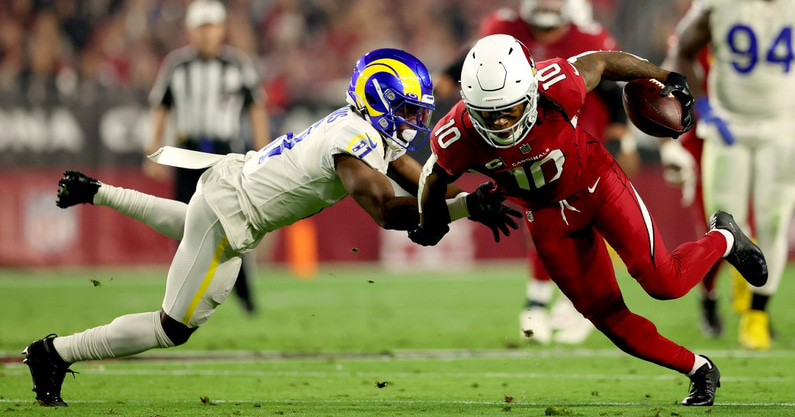 The Arizona Cardinals started the season on fire with a 7-0 record to kickoff the 2021 season. Since then, the Cardinals have been lukewarm at best, going 4-6 in their final ten games.
One of the reasons Arizona has struggled is because they lack execution on offense. The struggles are primarily because of the absence of star receiver DeAndre Hopkins. Heading into the playoffs, Arizona was hopeful that they would get their star wideout back in time for the wild card round.
Unfortunately, head coach Kliff Kingsbury has delivered some not-so-great news.
On Wednesday, Kingsbury announced that Arizona would continue to be without Hopkins as he recovers from knee surgery. Hopkins injured his knee against the Cardinals' Wild Card opponent, the Los Angeles Rams, on Dec. 13. Shortly after the game, he had surgery to repair the injury of a torn MCL. Hopkins was expected to miss six weeks, Which means his likely return would be after the NFC divisional round of the playoffs; if Arizona can hang on and make it past that.
Kingsbury and the Cardinals are set to take on the Rams in the NFL's first-ever Monday night playoff matchup. The teams split the regular-season series at one win apiece, with the Rams winning the most recent one at Arizona.
Colts owner releases statement on collapse to miss the playoffs
The mission was simple for the Indianapolis Colts; defeat the team with the worst record in the NFL, the Jacksonville Jaguars, and secure a spot in the 2022 NFL playoffs. And on paper, it would appear to be a layup victory for the Colts. However, it was anything but that, as they would fall to Jacksonville 26-11, eliminating them from playoff contention.
After a complete face plant that hard, somebody from the organization had to speak up and say something, anything. And that is just what Colts owner Jim Irsay did on Wednesday from the Colts Twitter account.
"When we started 0-3, in new the rest of this season would be an uphill climb. We all were hopeful we could dig our way out of the hole and reach the playoffs, and we should have. But we ended our season in perhaps the worst way possible and missed our chance too complete history."
The history that Irsay was pointing out, is no team in NFL history has started a season 0-3 and reached the playoffs. The Colts would have achieved this goal if the NFL season was still at 17 regular-season games. But this year, it was bumped up to an 18 game regular season.