WATCH: Kwon Alexander reels in ridiculous interception of Josh Allen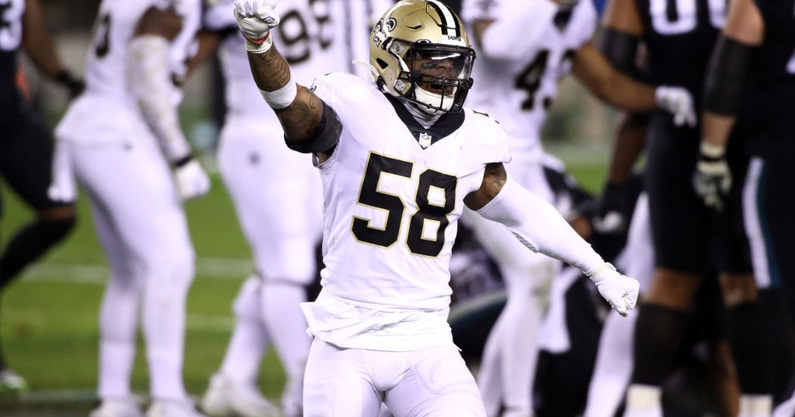 Kwon Alexander may have kept his squad alive with one of the most ridiculous plays of the season.
The New Orleans Saints entered Sunday night's Thanksgiving showdown vs. the high-powered Buffalo Bills as the clear underdog.
After nearly two full quarters, Josh Allen and the Bills were in prime position to make the score a three-point deficit, as they led 10-0 and were threatening in the red zone with just 16 seconds on the clock before halftime.
It appears the Saints' defensive line forced Allen to rush the throw, and one of the defenders was able to make contact with the quarterback's arm, causing an awkward pass in the direction of wide receiver Emmanel Sanders.
Initially it looked like the worst case scenario would be an incomplete pass, but out of nowhere, New Orleans Saints' star linebacker Kwon Alexander extended his entire body to haul in one of the most impressive interceptions of the 2021 season.
Check out the ridiculous play. Remember, Alexander isn't a defensive back.
Though Allen and the Bills offense has had success throughout the night, two of the Buffalo quarterback's incompletions have been interceptions.
Kwon Alexander at LSU
The Saints linebacker has cemented his position as a playmaker in the NFL. Injuries and changing teams have created adversity for Alexander, but it's obvious the Saints are getting value for the trade they made to acquire him back in 2020.
The two-year starter at outside linebacker for the LSU Tigers in 2013 and 2014 played in 32 games during his career, starting 23 times. He finished with 156 total tackles, 15 tackles for losses, 1.5 sacks while forcing three fumbles and recovering two mor.
Alexander was selected in the fourth round (124th pick) in the 2015 NFL Draft by the Tampa Bay Buccaneers.
While the New Orleans Saints defense has been ranked amongst the top units in the NFL this season, their offense has struggled to find a groove since the loss of Jameis Winston at quarterback.