LOOK: Lane Kiffin mocks latest NBA news surrounding Kevin Durant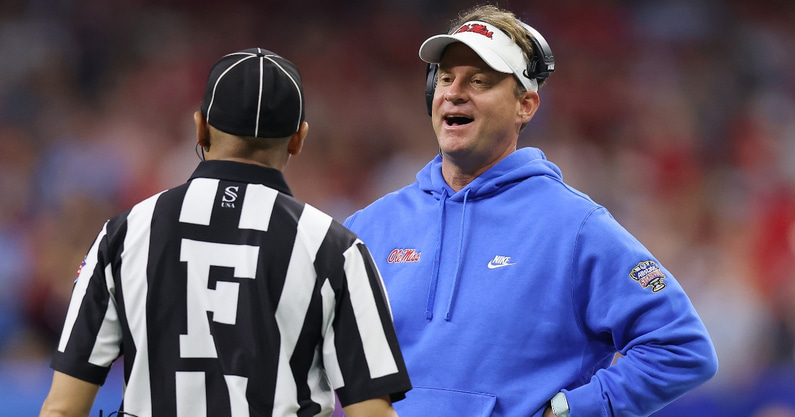 Ole Miss head coach Lane Kiffin has not been shy about cracking jokes on social media over the years. This afternoon, Brooklyn Nets superstar Kevin Durant made waves when he let everyone know that he's requested a trade. Ironically enough, he made his trade request public not long after his attention craving teammate, Kyrie Irving, decided to stay with the Brooklyn Nets.
Check out the post that Kiffin made on Twitter to joke about the superstar small forward his "next chapter".
More details and background on the situation
According to a report from ESPN's Adrian Wojnarowski, Durant and his agent, Rich Kleiman are trying to find a trade to a new team. Here was Woj's initial tweet:
"Brooklyn Nets GM Sean Marks is working with Kevin Durant and his business manager Rich Kleiman on finding a trade for the franchise star, Kleiman tells ESPN."
Shortly after the first tweet, Wojnarowski added this to his report:
"As the Nets prepare to move one of the most valuable trade assets ever on the market, the entire roster will available to discuss in deals, sources tell ESPN. Teams have been calling on Durant, and the Nets will certainly look for a historic return on players and draft picks."
With the price superstar players have been going for in the trade market over the last few seasons, Durant should demand a King's ransom for Sean Marks and the Nets.
Suns, Heat emerge as possible landing spots for Durant
Wojnarowski then updated his report with a pair of teams that have emerged as possible landing spots for Durant. Read below:
"Phoenix and Miami are among two of the teams that Kevin Durant has on his wish list, sources tell ESPN, but the Nets plan to move Durant where they can get the best possible deal. With four years on his contract, there's no shortage of teams willing to unload assets for Durant."
Woj also provided background information that Durant and fellow star Kyrie Irving hadn't spoken with the team since Irving opted into the final year on his deal on Monday.
"Kevin Durant and Kyrie Irving had no contact with the franchise after Irving opted into his deal on Monday, and a sense of inevitability existed that Durant would eventually ask for a trade, sources tell ESPN. It happened today."
Insanity in the Big Apple. With Durant bidding goodbye to his time in Brooklyn, perhaps Irving is next to demand a trade.
On3's Alex Weber also contributed to this article.