Details revealed on Lane Kiffin's new contract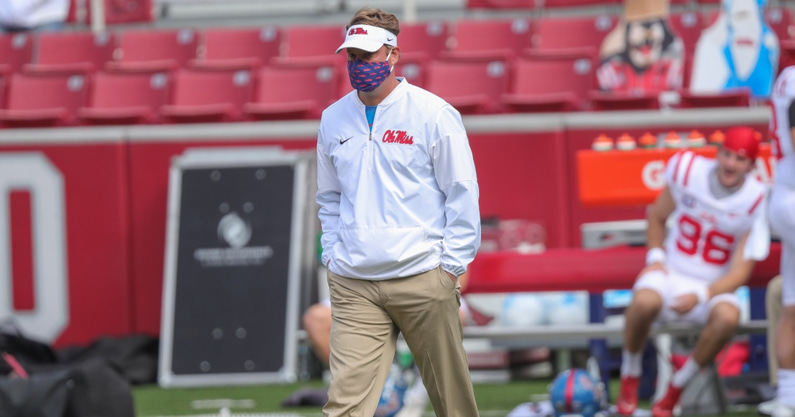 Ole Miss head coach Lane Kiffin's new contract substantially increases his pay from the original amount set in his 2019 contract, per the Clarion Ledger.
The new contract, which was signed in January, extends through 2024 and includes an increase each year. If Kiffin is still in Oxford at the end of the upcoming season, he will make $4.5 million plus a $500,000 retention bonus. That amount increases to $5.25 million in 2022, $5.5 million in 2023 and $5.75 million in 2024.
Kiffin's original 2019 contract had him making $3.9 million in 2020 plus $100,000 each year until the contract ended in 2023. He would have maxed out at $4.2 million.
The bonus structure in the new contract remains the same as the 2019 version. Beginning with Ole Miss' fifth SEC win, he will make an additional $150,000. Each time the Rebels beat a non-conference Power 5 team during the regular season, Kiffin makes $100,000. Should the Rebels win the SEC West, Kiffin gets $150,000, and if they win the SEC Championship Game, he will make $400,000.

Bowl bonuses include: 
Win CFP championship: $1,000,000
CFP championship appearance: $750,000
CFP semifinals appearance: $500,000
New Year's Six access bowl appearance: $250,000
Citrus Bowl appearance: $125,000
Group of Six SEC bowl appearance: $100,000
Birmingham or Independence Bowl appearance: $50,000
Last season, Kiffin's $3.9 million was the 34th-highest in the country, per USA TODAY Sports. If he makes $5 million in 2021, he will jump up to the top 20 vicinity. Fellow SEC coaches Mike Leach (Mississippi State) and Mark Stoops (Kentucky) made $5 million last season and were tied for the 15th highest paid coaches in America.
Ole Miss 2021 outlook
Kiffin's first season ended with a 5-5 record. The Rebels were really the only team to challenge Alabama last season in a shootout game that ended with a final score of 63-48. Kiffin's offense shredded Nick Saban's defense, posting 647 yards of total offense. 
The Rebels open the season against Louisville on Labor Day and play Austin Peay and Tulane at home before entering the bulk of their SEC schedule. They host former Ole Miss head coach Hugh Freeze's Liberty team on Nov. 6 in their final non-conference game.
Ole Miss returns eight offensive starters including quarterback Matt Corral and running backs Jerrion Early and Snoop Conner. Additionally, nine defensive starters return.