Las Vegas releases Pac-12 Tournament predictions, odds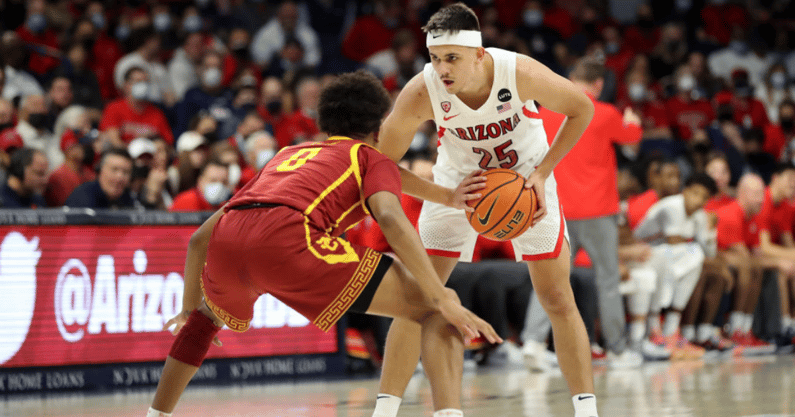 With the college basketball regular season officially in the books and conference tournaments getting set to take place – or already taking place – all across the country, there continues to be a better feel of the teams that will make up the NCAA Tournament.
Looking specifically at the Pac-12, the league is set to have three teams in the NCAA Tournament field with Arizona, USC and UCLA all expected to be among the 68 teams that make up March Madness.
As the Pac-12's regular season slate wrapped up on Saturday and with the Pac-12 Tournament bracket now set, Las Vegas has released its predictions and odds for the league's tournament.
Las Vegas' Pac-12 Tournament Odds
Arizona Wildcats: +130
UCLA Bruins: +130
USC Trojans: +500
Oregon Ducks: +2500
Washington State Cougars: +3000
Colorado Buffaloes: +3500
Stanford Cardinal: +8000
Utah Utes: +8000
Arizona State Sun Devils: +10000
California Golden Bears: +12000
Oregon State Beavers: +12000
Washington Huskies: +25000
Las Vegas predicts Arizona or UCLA to win Pac-12 championship
While they both have +130 odds, Las Vegas predicts either Arizona or UCLA to win the Pac-12 Tournament championship and earn the league's automatic bid into the NCAA Tournament – the bettors couldn't pick one or the other. While the Wildcats are already projected to be a No. 1 seed and the Bruins said to be in the field at No. 4, a Pac-12 championship win would only add to either team's resume.
Arizona put together a strong regular season – compiling a 28-3 overall record and going 18-2 against league opponents. The Wildcats have been one of the best teams in all of college basketball throughout the season and should already be a lock for a No. 1 seed in the NCAA Tournament.
Looking at UCLA, the Bruins went 23-6 in the regular season – with a 15-5 mark in Pac-12 play. Despite UCLA's five conference losses, it closed the regular season on a strong note with three straight wins against Oregon State, Washington and USC.
Just behind Arizona and UCLA in Las Vegas' odds is USC, which has +500 odds to take home the title at the Pac-12 Tournament. Similar to the Wildcats and Bruins, the Trojans also had a successful regular season – going 25-6 overall with a 14-6 mark in Pac-12 play.
After Arizona, UCLA and USC, Oregon is the next closest team in Las Vegas' odds at +2500.