Live Updates: McDonald's All-American Practice 2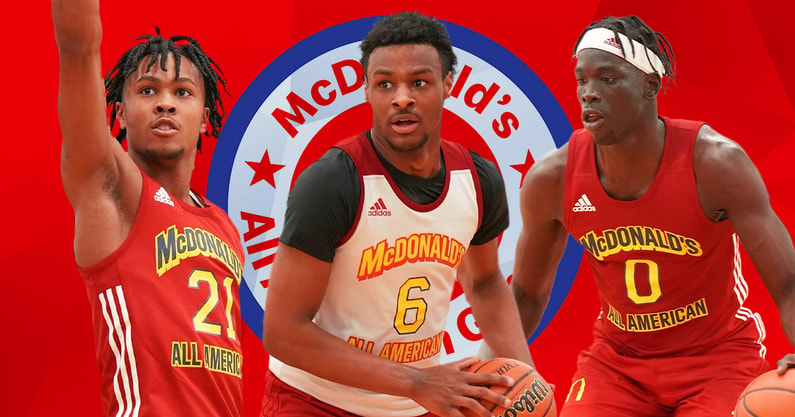 24 of the nation's top high school basketball prospects are in Houston gearing up for the 46th annual McDonald's All-American game.
Over the next two days, On3 will be courtside for the two practices in preparation for the game, which will tip at 8:00 p.m. CT on Tuesday, March 28th.
Follow along for live updates as On3's Joe Tipton and Jamie Shaw bring you analysis and observations from the McDAAG practices over the next couple of days.
FULL 2023 MCDONALD'S ALL-AMERICAN ROSTERS
TOP PERFORMERS AND NOTES FROM PRACTICE 1
TOP PERFORMERS FROM MCDONALD'S ALL-AMERICAN SCRIMMAGE
Live Updates from McDonald's All-American Game Practice
10:29 a.m. CT: "Michigan State signee Jeremy Fears has sneaky bounce. An explosive athlete that really shows in the open floor with his ability to get on the rim. Also, makes sense why he is such a good on ball defender." — Jamie Shaw, On3 national recruiting analyst
10:20 a.m. CT: "The game is effortless for Ron Holland in the open court. The Texas signee excels in the transition and is effective downhill. His three-point shot is improving." — Joe Tipton, On3 social media recruiting expert
10:14 a.m. CT: "Kentucky signee Reed Sheppard is a sneaky good shot blocker. He plays tough and has great timing, but will deflect shots and plays guarding the ball and a rate that makes things interesting." — Jamie Shaw, On3 national recruiting analyst
10:02 A.M. CT: "Stanford signee Andrej Stojakovic just caught a ball reversal, gave his defender a jab step to get him off balance, and attacked the close out to finish left handed in traffic. Poised move, crafty finish." — Jamie Shaw, On3 national recruiting analyst
10:00 a.m. CT: "Bronny James has knocked down a pair of catch-and-shoot threes without hesitation. He's a good teammate, unselfish, and always willing to defend." — Joe Tipton, On3 social media recruiting expert
9:54 a.m. CT: "Matas Buzelis' size and fluidity combination is rare. He has some wiggle off the bounce and continues to gain the toughness and strength which shows up when attacking the rim." — Jamie Shaw, On3 national recruiting analyst
9:50 a.m. CT: "Arkansas signee Baye Fall seems to be gaining confidence. Just had a nice mid-post touch where he caught it under control, sized up his man, and knocked down a turn around 15 footer with feel." — Jamie Shaw, On3 national recruiting analyst
9:47 a.m. CT: "Mookie Cook might be in the best shape of his life. He's really slimmed his body down and is taking his shot with confidence." — Jamie Shaw, On3 national recruiting analyst
9:42 a.m. CT: " Duke signee Jared McCain has done a solid job of getting to his spots as well as driving the ball in the lane. One word to describe him: Competitor." — Joe Tipton, On3 social media recruiting expert
9:40 a.m. CT: "Reed Sheppard continues his steady play. He knocks down the open shots, makes the extra pass, and is disrupting play on defense. Been a good week for the Kentucky signee." — Jamie Shaw, On3 national recruiting analyst
9:38 a.m. CT: "Omaha Biliew is so physically imposing. Hard to stop him when he gets in the lane and ALWAYS defends at a high level." — Joe Tipton, On3 social media recruiting expert
9:32 a.m. CT: "Baylor signee Ja'Kobe Walter continues to turn his defensive intensity up a notch. He's defending the ball 30 feet out and turning his man multiple times. A total disruptor here." — Jamie Shaw, On3 national recruiting analyst
9:30 a.m. CT: "USC signee Isaiah Collier is never sped up. He handles ball pressure with ease and sees the floor with such vision." — Joe Tipton, On3 social media recruiting expert
9:14 a.m. CT: "The physical presence of Iowa State signee Omaha Biliew is obvious. Muscular and explosive he plays, even in drills, with a lot of pop. There is not a second on the floor, in practice or scrimmages when Texas signee Ron Holland is not talking. Can constantly hear his voice." — Jamie Shaw, On3 national recruiting analyst
9:10 a.m. CT: "Players are very vocal in the morning skills session. Not only cheering one another on, but also making drills competitive." — Jamie Shaw, On3 national recruiting analyst