LOOK: 2022 Big Ten Men's Basketball Tournament bracket revealed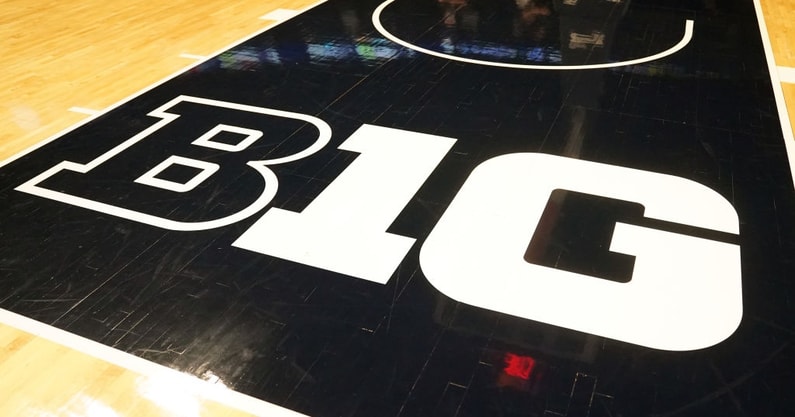 The Big Ten Conference has at last revealed their bracket for the 2022 Big Ten Men's Basketball Tournament following the conclusion of their season. The tournament is set to begin on Mar. 9 with Nebraska taking on Northwestern at Gainbridge Fieldhouse in Indianapolis, IN.
Sunday's slate of games to close the regular season saw Wisconsin lose a tough game to a Nebraska team that sits alone at the bottom of the Big Ten standings. With a win, Wisconsin would have won the regular-season title outright, the second Big Ten title in three years under head coach Greg Gard.
Unfortunately, the loss opened the door to a tie for first-place with Illinois. The Fighting Illini didn't get their win handed to them either, as Iowa was also in a battle for a better seed during the Big Ten tournament after Ohio State fell to Michigan on Sunday. After a thrilling finish, Illinois not only took a share of the regular season title, but earned the first seed of the tournament.
With all the shakeups behind them, three schools stand as the favorites to win the Big Ten tournament in Wisconsin, Illinois and Purdue. No. 1 Illinois could face No. 4 Rutgers while No. 2 Wisconsin could face No. 3 Purdue, barring any upsets.
2022 Big Ten tournament details
All times Eastern
First round — Wednesday, March 9
Game 1: No. 13 Nebraska vs. No. 12 Northwestern | 6 PM on Big Ten Network
Game 2: No. 14 Minnesota vs. No. 11 Penn State | 25 minutes after Game 1 on Big Ten Network
Second round — Thursday, March 10
Game 3: No. 9 Indiana vs. No. 8 Michigan | 11:30 AM on Big Ten Network
Game 4: No. 5 Iowa vs. Game 1 winner | 25 minutes after Game 3 on Big Ten Network
Game 5: No. 10 Maryland vs. No. 7 Michigan State | 6:30 PM on Big Ten Network
Game 6: No. 6 Ohio State vs. Game 2 winner | 25 minutes after Game 5 on Big Ten Network
Quarterfinals — Friday, March 11
Game 7: No. 1 Illinois vs. Game 3 winner | 11:30 AM on Big Ten Network
Game 8: No. 4 Rutgers vs. Game 4 winner | 25 minutes after Game 7 on Big Ten Network
Game 9: No. 2 Wisconsin vs. Game 5 winner | 6:30 PM on Big Ten Network
Game 10: No. 3 Purdue vs. Game 6 winner | 25 minutes after Game 9 on Big Ten Network
Semifinals — Saturday, March 12
Game 11: Game 7 winner vs. Game 8 winner | 1 PM on CBS
Game 12: Game 9 winner vs. Game 10 winner | 25 minutes after Game 11 on CBS
Big Ten Tournament Championship Game — Sunday, March 13
Game 13: Game 11 winner vs. Game 12 winner | 3:30 PM on CBS