LOOK: Ohio State fan loses bet to Oregon fan, gets tattoo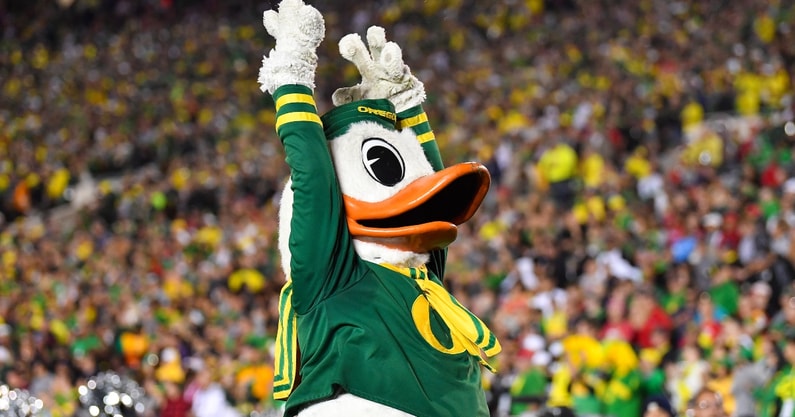 The Oregon Ducks' victory over the Ohio State Buckeyes on Saturday was a big one for Oregon's College Football Playoff chances. Ohio State's loss could be a big hit to its chances of making the Playoff.
The loss also proved to be a big one for one Ohio State fan, who lost a bet with a friend and had to get a tattoo of the Oregon Ducks mascot after the game.
Oregon stunned Ohio State with the 35-28 victory, which snapped the Ducks' nine-game losing streak to the Buckeyes. The two teams combined for over 1,100 total yards in the game, with Oregon rushing for 269.
Oregon's win was big for the Pac-12's CFP hopes
Coming into the season, the Pac-12 was not on most people's radars as a serious contender to produce a College Football Playoff team. After Oregon's big win over Ohio State, the Ducks jumped all the way up to No. 4 in the latest AP Top 25 Poll. UCLA is the next highest ranked team in the Pac-12 at No. 13.
Oregon quarterback Anthony Brown threw for 236 yards with two touchdowns in the game. Running back CJ Verdell erupted with 195 total yards and three touchdowns on 23 touches. Ohio State also had a good statistical game, but could not capitalize on a strong offensive performance yardage-wise. Quarterback CJ Stroud threw for 484 yards and Ohio State accounted for 612 total yards but scored just four touchdowns on offense.
As Oregon saw a major rise in the polls, Ohio State fell to No. 9. Oregon head coach Mario Cristobal was very happy with his team's effort in the upset victory. He still says that there is work left to do as Oregon continues to make a push towards the College Football Playoff at the end of the year.
"That locker room is spent," Cristobal said. "They're exhausted. They're also realizing we can be a really good football team. . . . We feel like we've been building toward this for a while now. We're not there yet."