LOOK: USC shows off amazing Trojans-related Drake London tattoo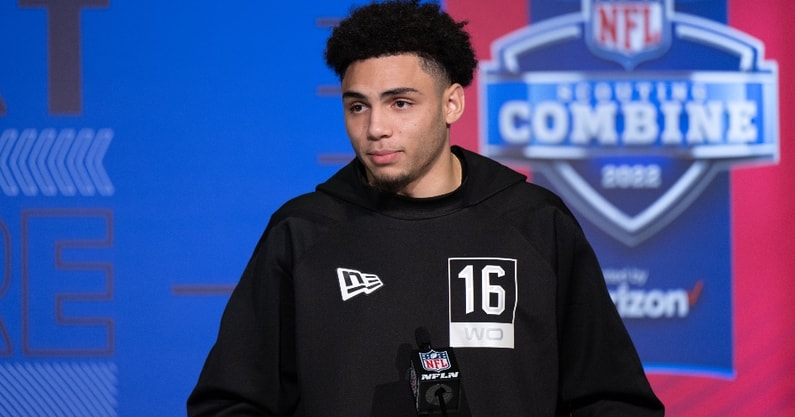 USC took to Twitter on National Tattoo day showing off some ink from one of their newest alumni, receiver Drake London. London, a California native and former two sport athlete for the Trojans, made it clear and permanent that he's a #TrojanForLife with his tattoo inspired by the iconic mascot of the program.
London was selected eighth in the first round of this years NFL Draft by the Atlanta Falcons. He was the first wide receiver taken in the draft and the highest USC wideout to get drafted since Keyshawn Johnson was the number one overall pick in 1996. But no matter where his NFL journey takes him, he'll always have a permanent reminder of where his journey started in Los Angeles.
Drake London reveals how partnering with Kyle Pitts will elevate Falcons offense
The Atlanta Falcons have added two dynamic offensive weapons over the previous two drafts. In the 2021 NFL Draft, the Falcons selected former Florida Gators tight end Kyle Pitts. In the 2022 NFL Draft, the Falcons selected USC Trojans wide receiver Drake London. Together, Pitts and London give the Falcons a physical and dynamic duo on the offensive side of the ball.
After his selection in last month's draft, London opened up on the idea of playing alongside Pitts, who just wrapped up his rookie season in the NFL. London is excited about the future, and the two should be in line for major roles right away next season.
"I think it's gonna be fun," London said of playing with Pitts. "It's gonna be something special. I think once I meet him and we get to know each other, I think we're going to elevate each other in great ways."
As a rookie, Pitts suited up in all 17 games for the Falcons. He was targeted 110 times in the Atlanta offense, hauling in 68 receptions for 1,026 yards and one touchdown, averaging 15.1 yards per catch. 
At USC, London was a 30-reception, 500-yard receiver for his first two seasons in 2019 and 2020. This past season, though, he played himself into a bigger role, bringing in 88 receptions for 1,084 yards and seven touchdowns. In his three-year collegiate career, London caught 160 passes for 2,153 yards and 15 touchdowns, averaging 13.5 yards per reception.
On3's Jonathan Wagner contributed to this report.