LOOK: Virginia state colleges unite around UVA amid tragedy, will wear special decal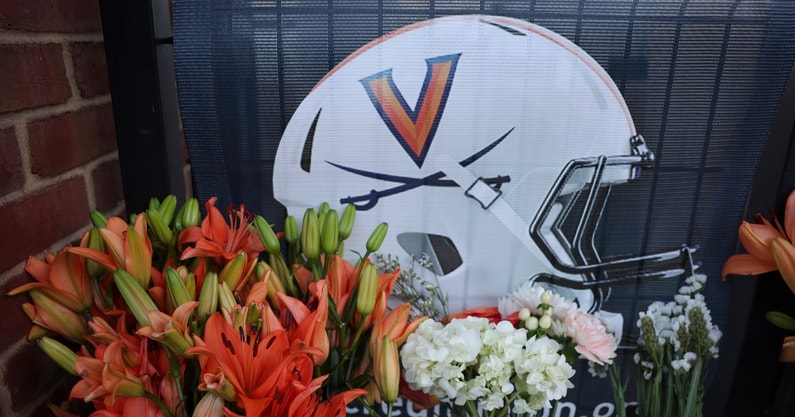 On Sunday night, three Virginia football players were shot and killed. Two others were wounded, one of whom was in critical condition. It's a tragedy that has shaken the UVA community and led to an outpouring of support from around the country.
Now, the Virginia state colleges have decided to make a show of solidarity by wearing a special decal on their helmets to honor the victims. Among the teams doing this are James Madison, Liberty, Old Dominion, Virginia Tech, Richmond, and William & Mary.
You can look at the decal, here:
CLICK HERE to subscribe for FREE to the On3 YouTube channel
The decal is in Virginia's colors, navy and orange. The Commonwealth of Virginia is in navy and superimposed over it is an orange ribbon.
D'Sean Perry, Lavel Davis, and Devin Chandler were the three players killed in the shooting. Mike Hollins, who was one of the two people wounded in the shooting, underwent a second surgery for his injuries relating to the shooting.
In response to the shooting, Virginia canceled its non-conference game against Coastal Carolina.
UVA coach Tony Elliott had an emotional response to the shooting
Nobody ever expects to deal with a tragedy like what happened at Virginia. However, that's exactly what Tony Elliott is going through.
"It feels like it's a nightmare, to be honest with you, and I'm ready for somebody to pinch me and wake me up and say that this didn't happen. It's been a long, I don't even know how long it's been since it happened. The minutes can't go by fast enough," Tony Elliott said.
"My heart's hurting right now for our university, our community, the team, the players, the families, the young men whose families have been impacted the most. That's where my thoughts are at this time, trying to provide all the resources and support that I possibly can. I have to acknowledge the strength of our players and the staff at this time in coming together to work to process what has taken place. Just like many of you all and many of those that are very close to the situation, still in shock, trying to rationalize, but also, find encouragement and community with those that have come out in and also those internally who have banded together to try and figure out how we move forward after going through a situation like this."