Report: Los Angeles Lakers make decision on future of former Kentucky forward Wenyen Gabriel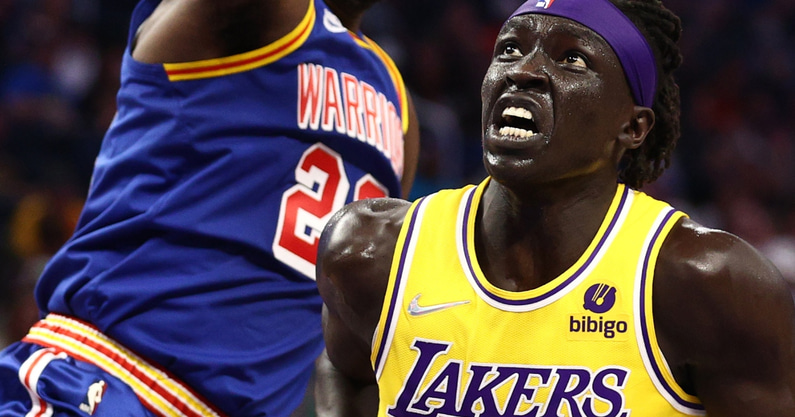 Wenyen Gabriel is going to begin to like the way he looks in purple and gold — the Los Angeles Lakers have exercised their team option for the former Kentucky forward to return for another season.
In addition to Gabriel, former Arizona star Stanley Johnson will be returning to Los Angeles, per Keith Smith of Spotrac.
"The Los Angeles Lakers have exercised their $1.9M team option for Wenyen Gabriel and their $2.4M team option for Stanley Johnson, a league source tells @spotrac," tweeted Smith.
Last season, Gabriel joined the Lakers on March 1 — playing in 19 games over the remainder of their disappointing year. Averaging 16.4 minutes per game, the former Kentucky forward averaged 6.7 points per game — the most he's ever averaged with a team during his NBA career.
In the past, Wenyen Gabriel has found it tough to stick around with multiple NBA teams, as he's suited-up for five other squads. However, the former Kentucky star now has a shot to keep his address the same and continue his NBA career in Los Angeles.
2022 NBA Draft: Los Angeles Lakers select Max Christie, Michigan State shooting guard
Moreover, former Michigan State shooting guard Max Christie will be joining Wenyen Gabriel in Los Angeles, as the Lakers made him the No. 35 pick in the second round of the 2022 NBA Draft.
A five-star recruit in the Class of 2021, Max Christie is leaving Michigan State for the NBA Draft after just one season. It was a season that Michigan State had a lot of hope during, but a streak of losses in Big Ten play derailed their run. Still, Michigan State made it to the NCAA Tournament, where they eventually lost to Duke.
Max Christie scored 21 points against Nebraska, which ended up being a season-high for the freshman. He was a member of the Big Ten All-Freshman Team and flashed tons of ability throughout the season. He has also represented the United State of America national team in the 2019 FIBA Under-16 Americas Championship.
On the season, Max Christie averaged 9.3 points, 3.5 rebounds, and 1.5 assists per game. He shot 38.2% from the field and 31.7% from three-point range.
Prior to the NBA Draft, Max Christie was projected by ESPN to go 45th overall. Because of that, there was some surprise that he didn't choose to go back to Michigan State and develop for another season.