Louisiana getting $1.7 million for game at Texas; what if Ragin' Cajuns win, too?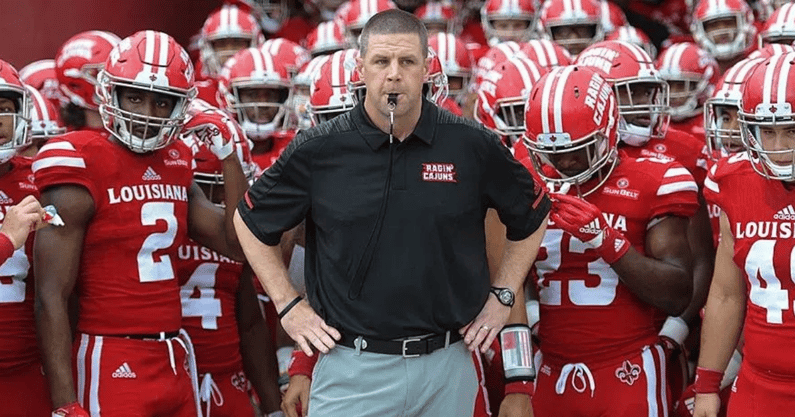 When the Louisiana football team leaves Austin this weekend, the Ragin' Cajuns could be squarely situated in the national football conversation after their trip to the Lone Star State.
For sure, their athletic department will get $1.7 million just for playing the game against No. 21 Texas. There's also the possibility that a Louisiana win would bolster its hopes of getting the New Year's Six slot given to the best Group of 5 team. Heck, a win could let the No. 23 Ragin' Cajuns dream of becoming the first G5 team to get to the College Football Playoff.
Leave with the money and the win? In Texas parlance, talk about a well-executed two-step. 
And aside from the guaranteed money coming to Louisiana, you can't put a dollar figure on what beating a team that carries brand-name recognition like Texas would mean to the university. Louisiana won at Iowa State last season, but while coach Matt Campbell and Iowa State are well-regarded, the Cyclones aren't a universally known commodity like the Longhorns.
Because of the sheer number of high-level games, this weekend's results nationally will produce a variety of compelling storylines. But a Louisiana victory over Texas would drive the conversation, both in terms of what it would mean for the Ragin' Cajuns this season as well as the career springboard it could represent for their coach. A win also would cap off what has been anything but a typical week for Louisiana; a number of its players hail from areas most severely affected by Hurricane Ida and its aftermath.
The economics of the game are no small factor for a Louisiana athletic department that generated $32.5 million in revenue in 2018-19. By comparison, Texas led the nation that year with $223.9 million in revenue.
The mere existence of so-called guarantee games, where the home team pays a visiting team a negotiated sum of money, are as important as ever for teams outside Power 5 conferences after being squeezed financially during the 18 months by the pandemic.
Louisiana originally was scheduled to play at Arizona State on Saturday, with the Sun Devils paying Louisiana $1.3 million. But the schools reportedly mutually decided to cancel, with the Sun Devils agreeing to pay Louisiana $200,000. A Louisiana spokesman did not respond to a request to elaborate on the cancellation, though numerous non-conference games nationwide were canceled, rescheduled and altered amid the pandemic. Louisiana instead will play the first game of the Steve Sarkisian era in Austin.
The Ragin' Cajuns have three other non-conference matchups this season. USA Today reported that Nicholls State will receive $275,000 to play in Lafayette on September 11, Ohio will receive $200,000 to play in Lafayette on September 16 and Louisiana will receive $200,000 to play at Liberty on November 20.
But first there's Saturday's game in Austin, where Louisiana has emerged as a trendy upset pick. Texas opened as a 16.5-point favorite, but the line has dropped to nine. Traditionally, guarantee games are designed for Power 5 schools to demolish lower-level opponents. That's not the case here.
Last season, Louisiana pounded host Iowa State 31-14 en route to a 10-1 record. The Ragin' Cajuns return 20 starters for what will be Texas' first season-opening game matching ranked teams since 1984.
Earlier this summer, Louisiana coach Billy Napier, 42, received a pay raise that boosted his total compensation to $2 million, making him the Sun Belt's first coach to reach that financial threshold. A former colleague of Sarkisian — both were on Alabama's 2016 offensive staff — Napier figures to be a hot commodity this fall once the coaching carousel begins. A victory in Austin would only heighten the interest in Napier. 
The guaranteed payout for this game aside, there is nothing small-time about this Louisiana team. Just ask Sarkisian. "When you turn on the tape," he said, "they get your attention."
A high NIL ceiling
The most interesting part of Opendorse's list of this year's top 25 college football players with the most Name, Image and Likeness value wasn't at the top; Oklahoma quarterback Spencer Rattler, who has signed with Steinberg Sports and Entertainment for NIL representation, is one of the most well-known and talented players in the country.
The surprising part comes a little further down the list, which was first reported by Darren Rovell. That Clemson's D.J. Uiagalelei (7th), Ohio State's Quinn Ewers (10th) and Alabama's Bryce Young (13) have secured such well-publicized, impressive deals speaks to just how lucrative the NIL era can be for the very best players. The upside is high. 
Uiagalelei, who is repped by VaynerSports and who will star in the marquee game Saturday against Georgia, signed a deal with Dr. Pepper to appear in a national ad campaign to be featured during its "Fansville" commercials. The Georgia game will be just the third start of his career.
Ewers, one of the most touted recruits in history, isn't even Ohio State's starting quarterback, yet he reached an autograph deal with GT Sports Marketing that ESPN says will pay him $1.4 million over three years. That is in addition to Ewers' deal with Texas-based beverage company Holy Kombucha. He has yet to take a college snap.
And Young, who is repped by Creative Artists Agency, has publicly disclosed a partnership with Cash App and has endorsement deals totaling almost $1 million, coach Nick Saban said. He will make his first college start Saturday against Miami.
If you're one of the best college football players — or even are just perceived to eventually be one of the best — your NIL ceiling likely includes seven figures.
"As you can imagine, it's still a top-heavy world out there," Blake Lawrence, co-founder and CEO of Opendorse, told On3 recently. In July, "the top 10 percent of athlete earners wound up earning 93 percent of all the dollars in the market."
The question: How long will this market endure? At the start of the 2022 season, will we still be talking about potential seven-figure deals for the next crop of top players? Zach Maurides, founder and CEO of Teamworks, told On3 that for many deals this summer it will take time for brands to assess the return on investment, which ultimately will determine the size of the market moving forward.
"There has not been enough discussion around what is going to be the actual ROI for brands that choose to spend money on a college athlete endorsement versus a pro athlete endorsement versus a regular influencer endorsement versus any sort of other marketing spend," Maurides said. "That is going to dictate how much money continues to be spent in the space going forward. I don't think (in general) the return is going to be as great as a lot of people anticipate."
For some NIL activities, like autograph signings or social media promotions, brands can assess demand and response in real time. 
"Like 10 percent of all dollars came in to student-athletes from signing autographs," Lawrence said. "Their return on investment is not part of that conversation. It's like, 'Did you get the autograph or not, yes or no?' "
Quick hits …
Expect other conferences to try to follow in the footsteps of Pac-12 Networks, which launched an initiative to create a streamlined process for athletes and their NIL partners to license and access their highlights from the network's collection of footage. The operative word is "try." The Pac-12 owns its network. ESPN owns the SEC Network and ACC Network, and Fox owns the Big Ten Network. It's an open question whether the TV partners will allow those conferences to follow suit. Why does it matter? The Pac-12 needs to bolster its national relevance and winning on the field makes that happen. Top recruits are required for that to occur. One of the main drawing cards for teams and leagues now are NIL opportunities. Every school and league is looking for an advantage, and this is one. Schools and leagues are not permitted to dangle specific NIL opportunities as a recruiting inducement. And Pac-12 Networks is not doing that. But this initiative, in general, is a prudent move by the conference to make their athletes more appealing to brands. The Pac-12 Networks Licensing Program is in partnership with Veritone, the networks' exclusive licensing partner.
A sign of the times in Lincoln, Neb.: Nebraska will keep alive its sellout streak of 376 games — dating to the 1962 season — which is the longest active sellout streak in the nation. But it's nothing to celebrate. The streak remains alive because two, as athletic director Trev Alberts called them, "generous donors" purchased the remaining tickets for Saturday's home opener against FCS school Fordham. Tickets will be given to youth throughout the state who wouldn't normally be able to attend Nebraska games. Given Scott Frost's team's performance against Illinois, the safe bet is that the sellout streak ends this season, especially if generous donors throughout the state choose to hang on to their money to possibly contribute to a buyout of Frost's generous contract.
"Unrivaled" is an appropriate word to describe the résumé of Bob Fishman, the legendary CBS sports director who announced that he will retire following the 2022 NCAA Tournament. After joining CBS News in 1972, Fishman pivoted to sports in 1975. Since 1982, considered arguably the dawn of the golden age of the sport, he's been the lead director on college basketball. Among the unforgettable moments associated with Fishman: Michael Jordan sinking the game-winning shot in the 1982 NCAA title game; Jim Valvano running around the court looking for someone to hug in 1983; Joe Carter's walk-off home run to win the 1993 World Series; Tonya Harding crying at the Olympics in 1994; and Villanova's Kris Jenkins' title-winning shot in 2016. Sean McManus, the CBS Sports chairman, said Fishman would be front and center on the Mt. Rushmore of sports directors. Veteran CBS Sports director Mark Grant will succeed Fishman as the network's lead college basketball director.