Greg McElroy praises Miami, LSU for how AD hires changed their programs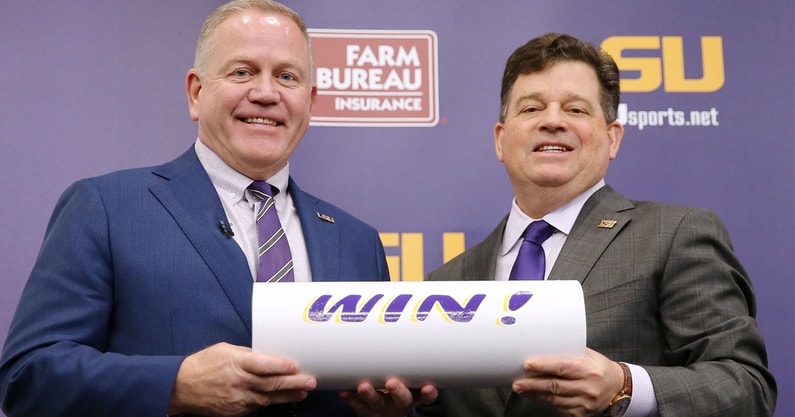 Miami and LSU made big-time Athletics Director hires in recent years and they are paying off for both schools in a big way.
Miami landed former Clemson AD Dan Radakovich, who had a lot of success during his time with the Tigers.
Radakovich and Hurricanes football coach Mario Cristobal have Miami fans excited about the future. Miami also just made the Final 4 in men's basketball this past season.
"Look at what Miami did just last year. They go out and they hire Clemson's Dan Radakovich. He, as a result, goes out and does an amazing job raising revenue, figuring out ways of being aggressive, going and getting Mario Cristobal," Greg McElroy said on the Always College Football podcast. "You look at how it's been impactful at other places as well where a new hire has completely changed the game."
One of those other places is LSU. The Tigers hired Scott Woodward as AD in 2019, and he was eventually able to land Brian Kelly as the LSU head football coach.
Kelly led the Tigers to the SEC West title in Year 1 and has LSU set up for a bright future.
"You look at LSU, alright. LSU's a great example. Scott Woodward comes over from Texas A&M. He goes and hires Brian Kelly. We all feel on this program, and I feel like nationally, everyone feels really good about what Brian Kelly's going to do at LSU," McElroy said.
"He also brings in Kim Mulkey, who just won a national championship in just her second year there in Baton Rouge. So a lot to be taken into account with the importance of the AD position."
According to McElroy, athletic directors are more important now than ever.
A lot of boosters are trying to decide whether to donate money for NIL or to the school to upgrade facilities. The right AD could be able to get boosters to do both.
"We're entering into a world where it is extremely, extremely important to prioritize the NIL. But also at the same time don't do so and then turn your back on potential facility upgrades and things like that," McElroy said.
"The ADs job as a fundraiser is actually more important today than ever. Why? Because they have to actually compete  for the money that is being donated. It might be donated to NIL, but 'Hey man, make sure you keep a little bit of that at home so that we can continue to have state of the art facilities.' That's job number one of the AD. Been very, very important, and thus, I think having an important figurehead, an AD that moves the needle, has never been more important."