4-star Luke Bamgboye dives into his recruitment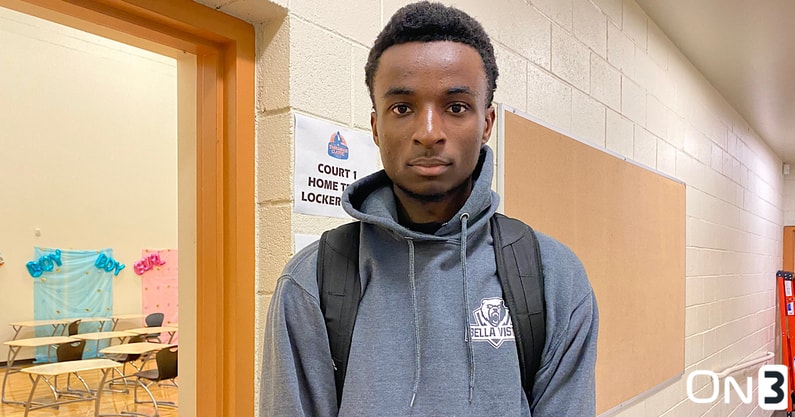 Luke Bamgboye is the No. 91 ranked player in the 2024 On3 Consensus. Through seven games on this year's Grind Session, the 6-foot-9 four-star forward is averaging 10.1 points, 6.7 rebounds, and 1.3 blocks for Scottsdale (AZ) Bella Vista Prep.
"I bring energy to the floor, try to do the little things like block shots and dive on the floor," Bamgboye told On3. "My game is versatile; I can get you a bucket, a rebound, a stop, whatever we need to win. I like to watch a lot of Kevin Garnett, his aggressiveness and his whole presence on the floor."
On3 caught up with Luke Bamgboye after a recent live viewing to talk about visits, timeframes, and his recruitment.
Bamgboye talks recruitment
"I haven't set any official visits yet," Bamgboye said. "I took one unofficial visit to Arizona State. I'm hearing a lot from Xavier and Iowa; they've both been hitting me up quite a bit. I've heard from SMU and TCU a good bit too."
Arizona State: "They showed me a presentation that showed me how they used the bigs and planned to use me. I liked how the bigs ran the floor, and the guards looked for the bigs. I like the overall way they play and how it works with how I play. They've been playing well this season too."
Xavier: "They always tell me how I am a high priority. When we were on a Zoom call, they told me all about the school and how they use their bigs, and how they develop their bigs. They are very serious over there."
Iowa: "When I spoke with Coach (Fran) McCaffery, he told me he likes how I play hard and play possession to possession. He likes that I rebound and block shots. I know Iowa had Luka Garza, and they showed me that is how they develop their bigs and run a lot of stuff with them."
SMU: "Their coach has shown a lot of interest in me. I don't know too much about them right now, but I spoke to the coach, and they stay in contact."
TCU: "I speak a lot with Coach (Tony) Benford. He always stays in contact and sends me videos of the program and how he thinks I can fit in with their program."
In Bamgboye's words
"I'm still open to everything right now," Bamgboye said. "I don't have a timeframe for when I will commit by. I'll probably start taking my official visits after the season probably. Right now, I'm locked in as a 2024 prospect; I haven't fully discussed yet being in the 2023 class.
"I'll go to a school that will best utilize my different strengths. Use their bigs to be able to pass or attack, being a shot blocker. I just want to have many different roles where I can display what I can do.