Pressing Questions: Can Notre Dame still make the playoff, Nick Saban retirement rumors, SEC East rankings
J.D.'s CFP Rankings After Week 4
We cover the gamut in this Wednesday's mailbag, starting with Notre Dame's playoff hopes after losing to Ohio State.
I also tackle questions on Nick Saban, Neal Brown and SEC East rankings. 
As always, you can submit a question via my internet mailbox at [email protected] or send a DM/Tweet reply @JesseReSimonton.
This week's questions…
Can Notre Dame still make the playoff — Kevin
Technically: I guess. 
Realistically: The Irish are cooked. 
Notre Dame's inability to get a stop late against Ohio State — with just 10 men on the final two plays of the game — didn't just cost Marcus Freeman's team a chance for a monster win but also probably a potential spot in the College Football Playoff. 
We're looking at a potential chaos season, and that's actually bad even for a potential 11-1 Notre Dame, which I still think is a very good team. 
Let's say the Irish run the table the rest of the way, beating a Top 10 USC and winning at Clemson. A one-loss Pac-12 champion — be it the Trojans or Washington or Oregon or Utah gets in over Notre Dame. So does Florida State.
Not playing a conference championship game is really going to sting Notre Dame this season. 
The Irish now needs Ohio State to win the Big Ten or otherwise an 11-1 Buckeyes team would have any sort of tiebreaker in the committee's eyes with its win in South Bend. 
Texas will be favored in every game the rest of the season, and with a down Big 12, it's hard to see the Longhorns losing twice. Georgia faces the same scenario, and whoever wins the SEC is getting in over Notre Dame. 
The Irish had their chance Saturday, and right now, it sure looks like they squandered more than just a W.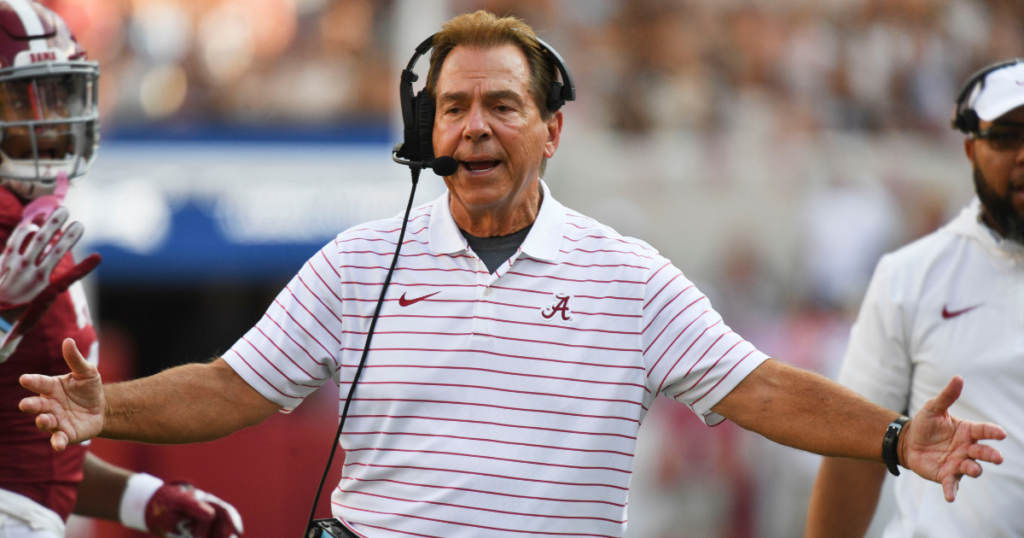 I watched the Pat McAfee Show and Nick Saban was asked about retirement rumors. Is that real? Where is that coming from? Who would Alabama even go after next as head coach? — Mark
Nick Saban has laughed off similar rumors for years, but the whispers have grown louder in some circles after Alabama didn't make the playoff last season and then lost to Texas two weeks ago. 
Who is doing the whispering? Obviously, there's plenty of wish-fulfillment from some hoping the GOAT is ready to hang it up. 
Nick Saban is 71. He's going to retire sooner than later. I don't think it's after this season, though. He just signed his greatest recruiting class ever at Alabama, and while the Tide have had their struggles this fall, they're still probably a quarterback away from being the best team in America again. 
If the rest of this season comes off the rails, maybe he does walk way. He's always said he'll retire when "I don't want to ride the program down. I don't want to do this if I can't anymore."
I don't think that time is now.
As for who the Tide would target as their next head coach? That's going to be one of the most fascinating storylines to watch whenever Saban does call it quits. The guy he beat last weekend — Lane Kiffin — would die for the Alabama job, but that seems wholly unlikely. Dabo Swinney, a Tide alum, also has long been linked to replacing Saban, but his Q-rating is going in the wrong direction fast. For now, it's fun and speculation. 
West Virginia is 3-1. Has Neal Brown saved his job? — Billy 
He looks well on his way, Billy. 
With duct tape and paper clips, the Mountaineers have pieced together just enough offense (see: hand the ball to CJ Donaldson and hope he gets four yards) to beat Pitt and Texas Tech — both firsts for Brown at WVU. 
West Virginia lost its starting quarterback early in the Backyard Brawl, but its defense is playing hard (the unit has allowed just 18.5 points per game and has the best third down percentage in the Big 12) and recently coming up with timely takeaways. 
Brown has not shied away from the hot seat talk all offseason, but he was adamant that the Mountaineers weren't as bad as all the preseason projections (last in the Big 12). He still needs to probably take WVU bowling this fall to be back on the sidelines in Morgantown in 2024, and that looks very possible in watered-down Big 12. 
While WVU has a tough road game at TCU this weekend, it still has games remaining against the likes of Houston, Oklahoma State, Cincy, Baylor and BYU — all winnable.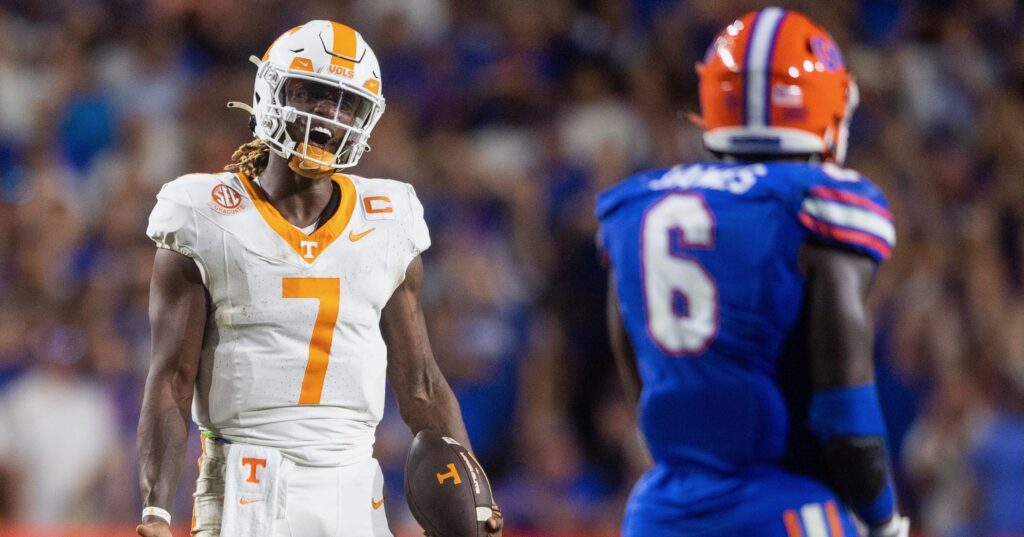 The SEC East has the conference's only remaining undefeated teams. Anyone see that coming? How would you rank the division right now? — David
This is a prescient question this week with six of the seven teams in the division — all of whom are looking up at Georgia — play each other on Saturday.
The Bulldogs are obviously No. 1 until someone knocks Kirby Smart's team off the top block. And Vanderbilt takes up the rear, as the Commodores have regressed in 2023 — especially offensively.
But you can make a case 2-6 in a bunch of different orders. We'll learn a lot this weekend. 
Can Spencer Rattler light up the Vols again or will Joe Milton and Tennessee's offense find its mojo under the lights at Neyland? Is Kentucky mature enough to handle its business at home in a toss-up game against Florida?
Heading into Saturday, I'd rank the SEC East as follows:
Georgia 
Florida 
Tennessee 
Kentucky 
Missouri 
South Carolina 
Vanderbilt
Florida has the best win and the best individual unit (its front seven). But the Gators haven't looked great outside of beating the Vols, so I understand those who'd rank Kentucky (4-0 but not the most inspiring 4-0) or Missouri (undefeated with a win over Kansas State, but a couple of yuck performances against MTSU and Memphis) higher. 
Again, this ranking could look a lot differently in a couple of days.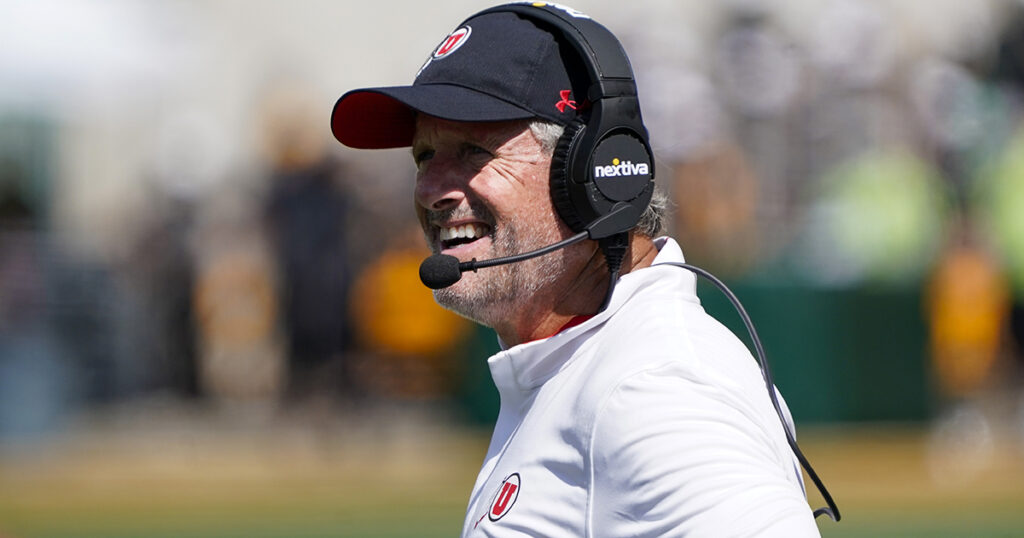 Utah is the most underrated team in the country again. They have two ranked wins. They won at Baylor. Why are the Utes ranked outside the Top 5? — Sam 
Quite simply because the AP Poll and the USA Today Coaches Top 25 aren't based on resume rankings. We can quibble with that fact, but that's the truth. 
I don't believe the Utes are a Top 5 team in the country, but they do have one of the best five resumes thus far in 2023. I don't think they have the extra gear of USC, Washington or Oregon, but they're 4-0 with third and fourth-stringers at quarterback. Their defense remains elite and Kyle Whittingham is one of the best coaches in the country. 
The two-time defending Pac-12 champs definitely deserve more shine and respect. If they can go on the road to Corvallis on a short week and find a way to win without star quarterback Cam Rising again (whose status remains TBD), then they have an idle date and several weeks to prepare for upcoming games against USC and Oregon.