College quarterback standouts from the Manning Passing Academy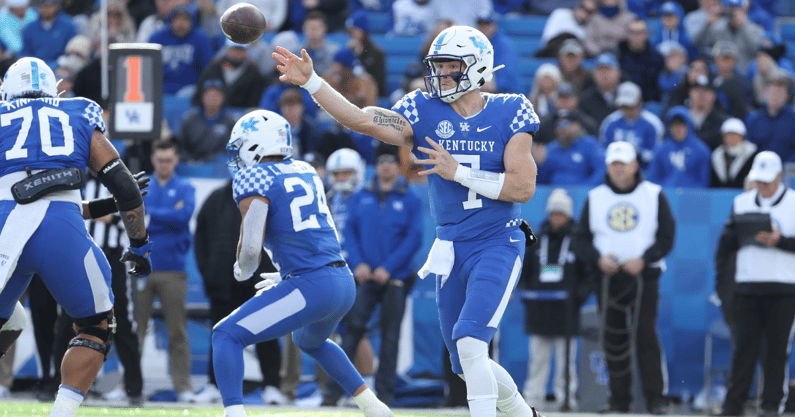 THIBODAUX, La. – Many of college football's top starting quarterbacks are in south Louisiana this weekend for the 26th Manning Passing Academy. The annual event was founded by former Ole Miss and New Orleans Saints quarterback Archie Manning with his sons Peyton, Eli and Cooper Manning serving as associate directors.
Cooper Manning's oldest son, Arch Manning, is the On3 Consensus' No. 1 prospect in the 2023 cycle. The younger Manning made huge news on Thursday when he announced his commitment to Texas. He was initially slated to camp, but is not expected to throw due to a minor injury.
While Arch Manning is not throwing at Manning Passing Academy, we did have the opportunity to see the loaded group of college counselors sling it around on Friday night in the event's "Air it Out" competition. The quarterbacks threw 10-yard hooks, 18-yard comebacks, 18-yard digs and a deep ball to receivers. The scored portion of the throwing session was a target competition where the quarterbacks threw at moving golf carts. Each turn included two crossing routes and a vertical throw down the sideline.
While the sample size was limited, we were able to get a solid look at many of these touted college passers throwing side by side. The high-difficulty throws allowed for a few to separate themselves from the rest of the pack. Personnel directors from the Senior Bowl and East-West Shrine Game were on hand to evaluate the draft-eligible quarterbacks.
Here's who stood out to on Friday night at the Manning Passing Academy.
Will Levis – Kentucky
Will Levis has received considerable off-season hype as a potential top ten pick in next year's NFL Draft. It's easy to see why after watching him throw in person at the Manning Passing Academy. First off, Levis immediately sticks out among the group from a stature and size perspective. He has a muscled build, looking to be over 6-foot-3, 230 pounds. Event emcee Cooper Manning awarded him with "best calves at the camp."
The ball jumps out of Levis' hand. He showed the best combination of a quick release and velocity of all the quarterbacks on Friday. Levis is able to access the entire field with his arm strength. He didn't have to strain to drive the ball 60-plus yards. Levis tested as a top athlete as a high school prospect and looks to have maintained those explosive qualities. There's no question the Kentucky quarterback's physical tools are top shelf.
Anthony Richardson – Florida
Anthony Richardson showed why he's considered as one of the more physically-gifted quarterbacks in college football. The rising redshirt sophomore wowed onlookers with his deep passes, effortlessly flicking the football about 70 yards downfield.
Richardson has huge hands and probably threw the tightest spiral we saw. His athleticism is well documented (he turned a backflip after connecting on one throw) but there's some big-time arm talent there, as well. Richardson has a bit of a looping throwing motion that can be off set some by the velocity on his throws. The Gainesville native flashed some tantalizing playmaking ability in 2021. He'll need to continue developing, but could be primed for a breakout year under new Florida head coach Billy Napier.
Ty Thompson – Oregon
Ty Thompson is the youngest college counselor at this year's Manning Passing Academy as the lone second-year quarterback in attendance. You wouldn't know Thompson is considerably younger than the other quarterbacks when watching him throw. The Arizona native is one of the more physically-impressive attendees, with a big frame at around 6-foot-4, 220 pounds. He showed one of the strongest arms on hand, throwing a rope on the 18-yard comeback and one of the better deep balls along with Levis and Richardson.
Thompson is competing with Auburn transfer Bo Nix for the Oregon starting job and showed his high upside on Friday night.
Bryce Young – Alabama
An on-air passing competition at the Manning Passing Academy does not fully showcase Bryce Young's skill set, but the reigning Heisman Trophy winner still had one of the better showings, in our opinion. Young has natural accuracy and made easy work of the 18-yard comeback. Some of the other quarterbacks were tight while throwing in front of a sizable crowd, but Young was loose in relaxed. He's not going to impress from a size perspective like some others, but the arm talent registers in the top group among those in attendance.
Clayton Tune – Houston
Clayton Tune was a pleasant surprise on Friday and came away as the winner in the target competition. The Houston signal caller showed a strong arm along with ability to properly layer his throws to hit moving targets. He was the only finalist to hit all three targets in the final session.
Max Johnson – Texas A&M
Max Johnson is among the more physically-imposing quarterbacks at the Manning Passing Academy. Some onlookers were surprised by his size when compared to the other quarterbacks. The 6-foot-5, 220-pound lefty was one of the finalists in the target competition, showing the arm strength to drive the football down the boundary with pace. The former LSU signal caller is competing to start at Texas A&M this fall.
Kedon Slovis – Pitt
Kedon Slovis was among the more steady quarterbacks on Friday night. Slovis showed a quick release and threw with timing and accuracy. He didn't struggle with the 18-yard comeback or dig and looked natural in the passing setting. Slovis transferred to Pitt after three years as a starter at USC.
Cameron Rising – Utah
Similar to Slovis, Cameron Rising was among the more relaxed passers in the Manning Passing Academy's high-energy setting. The fifth-year senior didn't press and made some nice throws on the night, highlighted by a well-thrown comeback. Rising's emergence in 2021 helped lead Utah to the Rose Bowl.
Additional notes from the Manning Passing Academy
+ Will Levis, Anthony Richardson, Ty Thompson, Max Johnson, Clayton Tune and Wabash's Liam Thompson were finalists in the target competition, with Tune taking the title.
+ Virginia's Brennan Armstrong and LSU's Myles Brennan were two more who had some nice throws on Friday. East Carolina quarterback Holton Ahlers showed off his arm strength on the deep ball. Miami's Tyler Van Dyke had a few highlight moments along with some misses.
+ South Carolina's Spencer Rattler won a year of free Raising Cane's chicken after throwing a football through a basketball goal from around 40 yards out. Rattler was a little off on his other throws, but goes home with free chicken for a year.
+ Tennessee's Hendon Hooker is in attendance but did not throw on Friday night.
+ Ohio State's CJ Stroud was on the initial camp roster, but was not in attendance on Friday.