Mark Stoops has created a top SEC program where there was none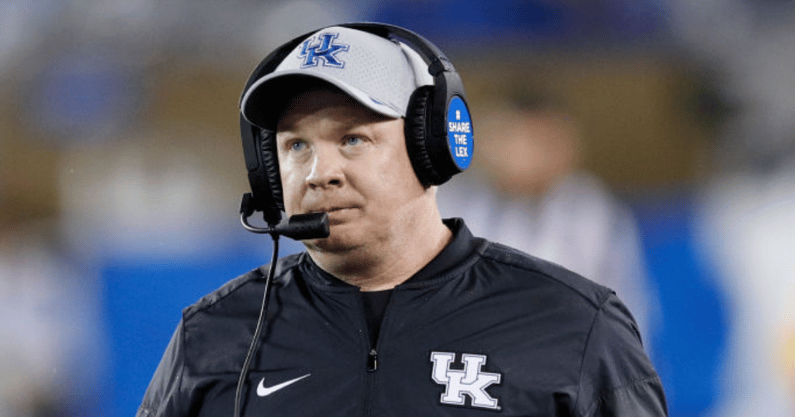 Bob Stoops lived the coaching life we all would like to live. He didn't climb the head-coaching ladder; Stoops took over a blue-blood program at age 38, turned Oklahoma around and won a national championship at age 40. He kept the Sooners near the top for 15 more seasons, and now he's a fixture on Fox's Big Noon Kickoff.
Mark Stoops, the youngest of Bob's five siblings, is living the coaching life that is closer to reality. In 2013, Mark took over at Kentucky, where the only blue-blood program plays in shorts for John Calipari. Stoops took over a program that had won four SEC games in the previous three seasons. He has built the Wildcats slowly, methodically. They won two games in his first season. They won five in each of the next two seasons. That's 12-24, if you're doing the math, and no one in the Kentucky administration blinked.
It took Stoops five seasons to beat Tennessee, six to beat Florida and in Season Nine he's still working on Georgia. That one may take until Season 10. Kentucky is 6-0, No. 11 in the country — and a 23½-point underdog to the No. 1 Dawgs on Saturday.
But the point is that Mark Stoops has created, outside the arc of the spotlight, a top SEC program where there was none.
"There's no doubt," Bob Stoops said. "Kentucky has never had the history and traditions. I guess, I don't know, Paul Bryant when he was there — I don't know how long ago that was."
Bryant left in 1953, 68 years ago.
"There you go," Bob said.
Culture is 'pretty damn important'
Mark is 55-50 at Kentucky. Five games over .500 may not sound like a lot to you, but none of the other 10 coaches since Bryant has done any better. Stoops has done it with patience, through development, without the plug-and-plays who populate Georgia's locker room. Asked to explain why he has chosen the development route, he said, "You know and I know I'm not blessed with four- and five-stars all over the place."
Stoops has been patient. But he bristles at the notion that Kentucky has had to be patient with him. His relationship with the Kentucky administration is the closest way in which Mark Stoops is most like big brother Bob. In 17 seasons with the Sooners, Bob Stoops worked with one university president, David Boren, and one athletic director, Joe Castiglione. In nine seasons with the Wildcats, Mark Stoops has worked with one university president, Eli Capilouto, and one athletic director, Mitch Barnhart.
Ask Tennessee if that's important.
The benefit of not chasing four- and five-star guys is that you do a lot less unrecruiting. Unrecruitment is the process by which football coaches explain to the newly arrived freshmen that, no, they are not going to start their first college football game, and, no, they are not going to start in their first college football season.
"I feel we are a very unselfish football team and I hope we stay that way," Stoops said. "It's all about the cultural piece. What do you want the culture of your team to look like? That's pretty damn important."
Mark, like his older brothers, has no airs about him. He's a football coach's son, friendly, straightforward. It is the key to his coaching. Asked the most important advice he ever received about developing talent, Stoops said, "I think the big thing would be precision. Being precise. Too much in our evaluations is, 'You need to get stronger.' Or a coach may say to me, 'Needs to gain weight.' Well, I want a clear vision on how to do that. 'His ball skills are poor.' OK, let's get a plan, put it on paper, precisely how you're going to work on that weakness. There are no shortcuts here."
Mark Stoops took longer road
Unlike his older brothers, Mark took longer to get here. Not in that he needed nine seasons to get Kentucky to 6-0. Mark became an FBS head coach at age 45, seven years older than Bob and four years older than Mike, who coached eight seasons at Arizona.
Mark started out as a graduate assistant, but he veered off into high school administration. He worked as an athletic director at Macedonia (Ohio) Nordonia, an hour west of his hometown of Youngstown, for four years. He didn't start his college coaching career until he was 28.
Five years later, he coached the defensive backs on the 2001 Miami Hurricanes, one of the best college football teams in modern history. His secondary included Ed Reed, the late Sean Taylor, Antrel Rolle and Phillip Buchanon. Three of them played in a Pro Bowl; Reed is in the College Football and Pro Football Halls of Fame. So he knows his way around five-star talent.
The five-stars aren't coming to Kentucky just yet. Mark's brother believes they will.
"You don't build something that's never been built in the last 60, 70 years in a year or two. That's just not realistic," Bob Stoops said. "All of a sudden, 50 percent of the guys who are on the field you can win with. Then the next year, maybe it's 60 percent. Then it's 75 percent of your roster, the guys you know you're going to win more than you're going to lose. You're going to win eight games. And then it becomes 80 percent, 90 percent the more you recruit and people start to recognize your program."
Mark Stoops also believes it took him longer to become a head coach because it's more difficult for defensive assistants to attract the attention of the men and women who hire coaches. Offense sells tickets, the old saying goes. The other half of that saying is that defense wins championships. The two last undefeated teams in the SEC are playing each other Saturday. They are both led by defensive coaches.