Marshon Lattimore wins NFL award despite impediment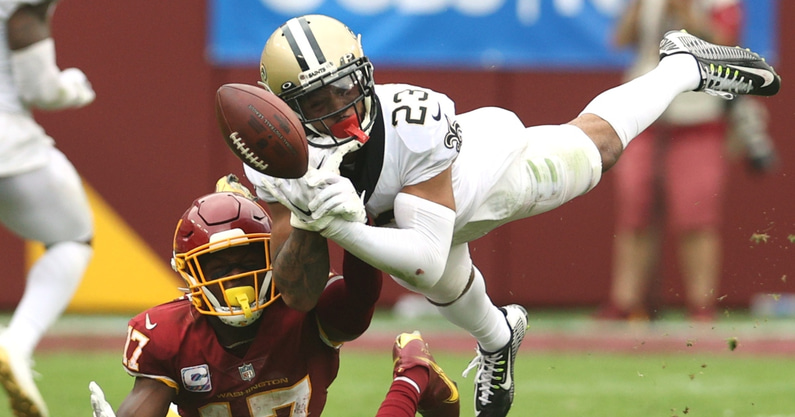 New Orleans Saints cornerback Marshon Lattimore earned an accolade from the NFL in Week 5 under some pretty unique circumstances. The former rookie of the year was named NFC defensive player of the week for Week 5 despite having a cast on his hand.
The announcement was posted on Twitter by Katherine Terrell and has since been retweeted by ActivArmor. ActivArmor appears to be the company responsible for Lattimore's cast. In the retweet, the company gave itself a pat on the back for keeping the Saints corner on the field to win the award.
Lattimore on the season
In last Sunday's game against the Washington football team, Lattimore had six total pass deflections and added in one tackle. His six pass breakups in that one game are more than any other corner has on the season. It also ties the mark for the second-highest total passes defended in the NFL since 1992. The former Ohio State Buckeye now leads the NFL in pass breakups with 10, doubling up the four corners tied for second with five.
As a team, the New Orleans Saints bounced back from an abysmal defensive performance last Sunday against the New York Giants. Against the Washington Football Team, they allowed 242 yards through the air. They also held Washington quarterback Taylor Heinicke to a sub 50 percent completion rate as he went 20 of 41. He also threw two interceptions and was sacked twice in the game. The Washington football team's quarterback finished with a QBR of 25 and a passer rating of 47.6.
The need for a cast
Lattimore has had the cast on his hand since he underwent thumb surgery after New Orleans's dominant Week 1 victory over the Green Bay Packers. That surgery kept him out of the Saints' Week 2 loss at the hands of the Carolina Panthers. Since his return in Week 3 against the New England Patriots, Lattimore has recorded nine of his 10 pastor flexions 13 of his 16 tackles and one interception.
Lattimore is the first Saints player to win NFC defensive player of the week since Cam Jordan did it back in Week 13 of 2019.
The New Orleans Saints are headed into a much-needed bye, with several key players potentially returning afterward against the Seattle Seahawks. As for Lattimore, he will look to build on his lockdown start to the season. And with any luck, he will do it without the use of a cast on his arm.