Matt LaFleur addresses Mason Crosby struggles, job status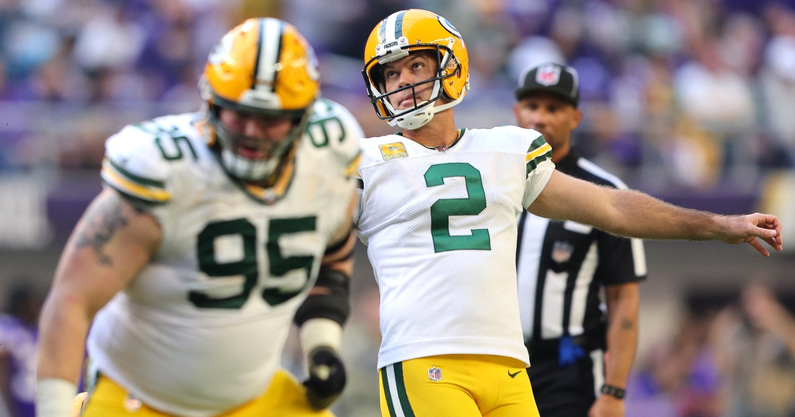 Green Bay's Mason Crosby is having a year to forget, but he does not have to worry about his status as the Packers kicker.
Over the last three games against the Kansas City Chiefs, Seattle Seahawks and Minnesota Vikings, Crosby is just 2-for-6 kicking field goals. He nailed a 54-yard kick on Sunday (his longest of the season), but he missed from 32 yards. 
Despite the recent disappointments, Packers head coach Matt LaFleur is not considering finding a replacement for 37-year-old Crosby.
"Absolutely not," LaFleur said concerning replacing his kicker, per Pro Football Talk.
"That never falls squarely on on individual," LaFleur added after commenting that the snaps and holds may not have been the most accurate. "Our operation has to improve. From the snap to the hold to the kick. So we'll continue to work on that. But certainly have a lot of confidence in Mason, never would've sent him out there if we didn't on a 54-yarder. That shows the level of confidence we have in him and on the entire group to execute, and they executed. But you have to make the chip shots."
On the season, Crosby is 15-for 23, just a 65% success rate. That is the second-lowest of his career, which began in Green Bay in 2007. More specifically, he is just 7-for-14 on kicks between 30 and 49 yards. Crosby is 28-for-29 on extra points.
The 2021 disappointment is amplified by the fact that Crosby has had so much success in the past. His lifetime success rate on field goals is 80.9%, and Crosby was a perfect 16-for-16 last season. In 2019, he was 22-for-24 (91.7%).
Crosby is responsible for 1,755 points over 235 games in his career, making him the storied organization's career scoring leader by a wide margin of over 700 points.
The Packers kicker is a graduate of Colorado, where he holds dozens of school records from his time there from 2003-2006. During his senior year, he was the first Big 12 player to be named player of the week eight times. He remains the record holder in career field goals and single season field goals for a Buffaloes player.
The Packers are looking to get back on track after an unexpected 34-31 loss to the Vikings last weekend. Green Bay hosts the Los Angeles Rams on Sunday at 3:25 p.m. CT on Fox.