Matthew Stafford's wife reveals mysterious beef with former teammate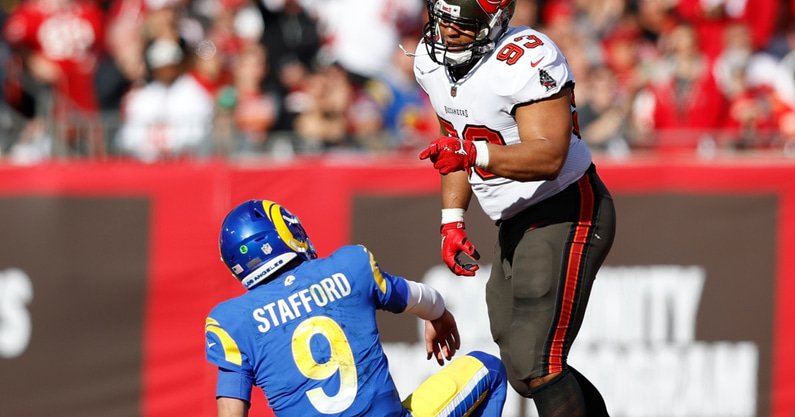 One moment lost in the craziness of Sunday's showdown between the Los Angeles Rams and Tampa Bay Buccaneers was a highlight of hostility. Early in the showdown, former Detroit Lions teammates Matthew Stafford and Ndamukong Suh got into it after a play early in the game.
In the first quarter, Stafford – the Rams quarterback – couldn't find anyone open on a pass play. Moments after Stafford threw the football, Suh – a Buccaneers defensive tackle – brought his former teammate down to the ground. As the gigantic Suh brought him to the ground, Stafford appeared to extend his leg to gain separation between the two.
Afterwards, Suh took exception. As he got to his feet, Suh was seen yelling expletives at Stafford. Additionally, the former No. 2 overall selection pleaded his case at the referee.
"You see he kicked me?" Suh exclaimed, hoping for a flag against the quarterback.
Instead, Suh was given a penalty for his actions after the play. Now, Kelly Stafford, the Rams quarterback's wife, is attempting to make sense of the beef.
On an episode of The Morning After with Kelly Stafford, she wondered why Suh and Stafford aren't particularly fond of eachother.
"Not really sure why Suh doesn't like Matthew, but Suh doesn't like Matthew," revealed Kelly Stafford. "And it has become this weird dynamic in the past couple years. Like, Suh will come out in the media and stay stuff, whatever, it doesn't even matter. It doesn't faze Matthew — it is what it is."
"Obviously, when I saw that, I was like, 'Oh F you Suh. Like what is wrong, relax dude, it's football.' And I have no idea what just triggered that."
Just like many who tuned in on Sunday, Kelly Stafford was baffled at the reaction Suh gave Stafford.
Matthew Stafford on Suh: 'I didn't really know who tackled me.'
Furthermore, Kelly Stafford revealed that Matthew Stafford didn't even know it was Suh who tackled him. While the quarterback didn't think much of it, it's evident that Buccaneers defensive tackle did.
"So then I asked Matthew last night (Sunday) and he was like, 'honestly, I don't really know what happened,'" revealed Stafford. "'I didn't really know who tackled me. But I remember getting put to the ground and someone on me and got him off me to try to get to the next play, and then Suh was in my face telling me he was going to (expletive) me up.'
"And I was like (laughing), 'what? I don't understand.' He's like, 'who's gonna understand it, whatever, it doesn't matter.'"
Matthew Stafford and Ndamukong Suh spent a couple seasons together in Detroit. Evidently, the two won't be enjoying time together soon at any reunions or get togethers.