#MeansMoreMailbag: Why was Jimbo Fisher so mad? Future SEC expectations for OU, Texas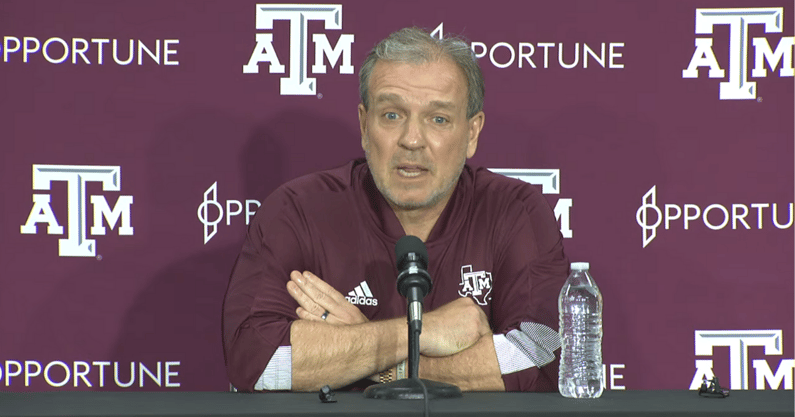 It's a meaty Friday #MeansMoreMailbag, where a SEC coaches feud between a couple West Virginians had folks thinking about the Hatfields vs. the McCoys. 
Let's talk Jimbo Fisher, Nick Saban, future expectations for Oklahoma and Texas and much more. 
As a reminder, each week I'll answer your SEC questions. Be sure to fill up the mailbox via a DM or comment on Twitter @JesseReSimonton, email [email protected] or using #MeansMoreMailbag.
On to the questions…
What are you expectations for OU and Texas when they join the conference? — Chase
For most of the last 75 years, Oklahoma has been the model of stability. A recession proof program. The Sooners have survived — and thrived — throughout multiple conference realignments (the Big 7 to the Big 8 to the Big 12), so history suggests they'll adapt just fine in the SEC. 
Now, this won't be your granddaddy's Oklahoma anymore. They've dominated the Big 12, but they're no longer the biggest brand in their conference. Former Clemson defensive coordinator Brent Venables knows what it takes to build a championship roster, but he's competing against Alabama, Georgia, Texas A&M, LSU and Florida — all of whom have easier access to more top talent. 
Still, OU has been to the College Football Playoffs multiple times and has a higher floor than almost any program in the country. They'll remain competitive in the SEC, and could even win the league a time or two in the near future after a couple seasons adjusting to their new cohorts. 
As for Texas, who knows? The program has a higher ceiling than Oklahoma thanks to a deeper pool of pockets (especially in the new NIL landscape) and playing in one of the state's richest pool of prospects, but the Longhorns have done little right since firing Mack Brown. They have five losing seasons since playing for the 2009 National Championship including a 5-7 year in 2022. 
Could Quinn Ewers (or Arch Manning) be the guy who changes Texas' future? It's possible. That's why 5-star quarterbacks are so important. But a lot has to go right around them, too, and that's been among the biggest hinderances for the Longhorns. 
For a program that's been regularly dropping games to the TCUs and Iowa States of the world (not to mention losing to Kansas at home last season), I think Texas will experience some real growing pains early during its introduction to the SEC.
Jimbo Fisher just called Nick Saban a cheater. Will the NCAA investigate Alabama? — Ricky
Technically, Fisher never actually called Alabama's head coach a cheater, but he did dish out plenty of spicy burns effectively suggesting Saban has been using illicit recruiting tactics for years.
Thursday's press conference sent shockwaves throughout college football because coaches simply don't air dirty laundry like that anymore. They once did. But no longer. Until yesterday. 
Fisher took off the gloves and went full Mike Tyson on Saban, pejoratively calling him God and saying perhaps he needed to be slapped as a child. It was unlike any exchange we've ever seen. 
As for the accusations, Fisher could pop off with little recourse because Saban isn't going to file some sort of defamation suit for fear of potential discovery, but also, the NCAA isn't going to do a thing about it either. It's a toothless organization that's already spread far too thin to go digging back into the recruiting practices at LSU in the mid-aughts when Fisher worked under Saban. 
We know NIL bankrolled Texas A&M's recruiting class, so why was Jimbo so mad? — Erick 
I received a couple different versions of this question, as folks are wondering why Fisher had such a ballistic response to Saban's "Texas A&M bought every player" sound byte when name, image and likeness certainly played a factor in the Aggies' historic 2022 recruiting class. 
There's a couple different issues here, starting with the fact that Saban said Texas A&M bought "every" player. There's no way that is true, so it undercut his actual argument — which was full of sour grapes but did have some overall merit. Namely, that NIL has changed the recruiting game. Saban wants parity because, at Alabama, he's made a parody of the rest of college football by taking precise advantage within the previous framework.
That world is changing though, and Saban, who is clearly threatened, will either have to adapt as he's done better than anyone before or retire. 
The insinuation that Fisher and Texas A&M inked all those 5-stars purely because they bought their signing class is what made Fisher hotter than a bottle of Texas Pete, though. It's an offense to his ego, and the true work and relationship-building he and his staff did with all those prospects. Fisher cares deeply about recruiting and how he is perceived in the space. 
But the hypocrisy doesn't stop with Saban. 
The problem here is a total lack of transparency on all these NIL deals. Fisher can't stand the accusations, but he also hasn't provided any specifics on what Texas A&M is doing better in the NIL space than everyone else. Only that "no rules were broken. Nothing was done wrong."
Ok, so why not own the fact that Texas A&M's affiliated collectives figured out how to use NIL to its advantage better than the ones at Alabama and elsewhere? 
What are the chances of the Bulldogs repeating? — Thugglyfe
Not great — purely from a probability perceptive. 
It's really, really hard to win a national championship. Hell, Georgia has been one of the most consistent programs in the sport for the last two decades and it still took 40 years for the 1980 jokes to go away. In the College Football Playoff Era, no team has repeated.  
Alabama is the last school to win back-to-back titles (2011 and 2012), and during the BCS Era (1998-2013), only Southern Cal won two straight (2003, 2004) — one of which was shared with LSU. 
The Bulldogs are among the favorites to win the title in 2022, as Kirby Smart has taken the 'Bama blueprint and rubber-stamped it with a giant red and black 'G,' but they must buck history if they want to make some. 
Even after all the NFL departures, I Georgia will make it back to the CFB Playoffs. But can they beat Alabama (perhaps twice) and Ohio State? 
Will Arkansas shake up the conference with some upset wins? — Vogel 
Will the Razorbacks stun Alabama and win the SEC West? No, though the game is in Fayetteville at least if you're looking for a puncher's chance upset. 
However, I think Sam Pittman and the Hogs are the second or third-best team (depending on how you look at Texas A&M's quarterback situation) in the West, which means I'm not sure how many "upsets" they'll need to pull off this year. 
I think Arkansas is better than Ole Miss, Mississippi State and LSU. I expect them to win those games in 2022. 
Based purely on preseason rankings, a win over Texas A&M in Dallas for the second-straight season will be considered an upset and could determine who finishes behind Alabama in the division.
Why are the expectations for Tennessee so high? — Jackson
Are they "so high?"
Tennessee's preseason over/under win total is set around 7.5, depending on which wise guy numbers you use. 
That doesn't seem outlandish at all considering the Vols went 7-6 in Josh Heupel's first season — and that includes three losses in one-score games. 
I am high on Tennessee this season, believing Hendon Hooker & Co., will finish No. 2 in the SEC East behind Georgia, but that's not a universal opinion. There are lots of defensive concerns that must be addressed to make that a reality.
Most still view Kentucky, which has a favorable schedule and a potential Top 5 pick at quarterback, the safer beat to challenge the Bulldogs in 2022. 
I think the expectations, or really excitement, around Tennessee is about the future. As I wrote last month, "the swelling optimism surrounding Tennessee seemingly has less to do with what might happen on the field in 2022 versus what is currently happening on the recruiting trail with the 2023 class. 
Landing 5-star quarterback Nico Iamaleava was a game-changer for the Vols. When Nico Mania arrives in Knoxville, that's when the expectations will really ramp up.