Mel Kiper believes Evan Neal has competition to be first lineman taken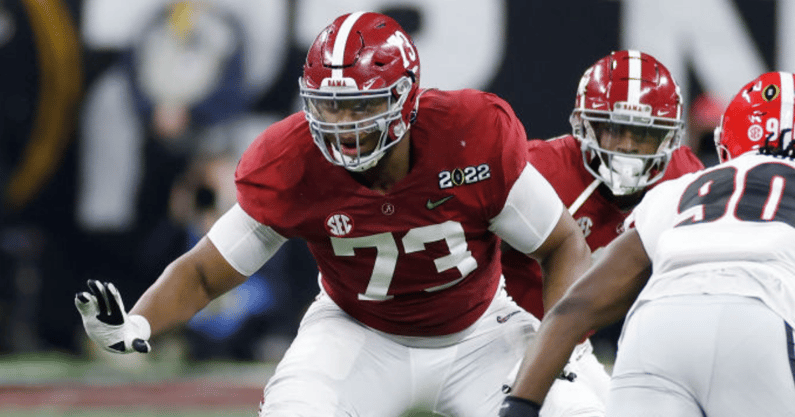 During ESPN's SportsCenter special with NFL draft analysts Mel Kiper and Todd McShay, the two went back and forth discussing the formers first 2022 mock draft based on his scouting and the things he is hearing around the league. As they worked through the picks, Alabama offensive lineman Evan Neal to the Houston Texans at No. 3 stood out.
"You think about Evan Neal, you think about the versatility he brings to that offensive line with Houston," Kiper said. "Laremy Tunsil could he be traded?
"You think about where Houston will be with left tackle, with Neal. Could be at right tackle. Start him there. Start him at guard. He is a mountain of a man. Certainly, a guy very experienced and tremendously versatile. So he gives that offensive line – depending on the pieces that are still there – the ability to make an impact right away because he's played and started at three different positions along the offensive line for the Crimson Tide at Alabama."
Todd McShay then offered his thoughts on Evan Neal, ranking him as the top offensive lineman in the draft class over the likes of Ikem Ekwonu, Charles Cross and Tyler Linderbaum.
"I think Neal is the best of the bunch," said McShay. "I read Kiper's writeup on his mock draft where he said Ekwonu could be the first offensive tackle taken. That may be the case. There are some teams that absolutely love him. … But Evan Neal as I mentioned is a monster of a man. He's a $15 Uber ride to get around in pass protection. He's so long and so tough with that initial punch that he has and he's also dominant in the run game as a blocker. So kind of the complete package there."
Evan Neal or Ikem Ekwonu
While Todd McShay ranks Evan Neal above the field, Mel Kiper reminds him that many NFL front offices have fallen in love with NC State offensive lineman Ikem Ekwonu, who also has great versatility.
"Ekwonu and Neal, Todd," Kiper responded. "And what you have to realize what these mock first are. It's who we're talking to, our friends in the league. And its a split. The ones I've talked to Todd between in Ekwonu and Evan Neal. So we'll have to see.
"It depends upon the team picking at that point, whether it's Houston looking at offensive tackle which we think they will. How do they rank these two? So it's really too close to call right now with some of the people I've spoken to in the national football league between Evan Neal and Ikem Ekwonu from NC State."