Miami Battle 7v7 recruiting scoop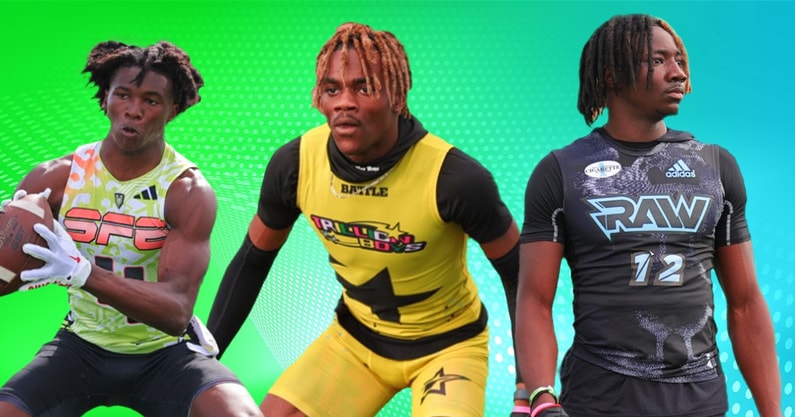 The Battle 7v7 circuit kicked off for the 2023 season and it started in south Florida. Over 40 teams participated in the event. Recruits from California, Texas, Louisiana, Utah, Virginia, Nevada, Tennessee, Kentucky, Michigan, Miami, Illinois, Georgia, Alabama, Arkansas, Mississippi, and the host state of Florida.
On3 was in attendance and here is the recruiting scoop coming out of the event.
5-star CB Ellis Robinson IV
The buzz: Ellis Robinson was back at Georgia last weekend for the national championship celebration. He has visited Athens around half a dozen times and there is some buzz around the Bulldogs. Georgia and Alabama have been battling for that top spot for months, and each school has been considered the favorite at different times. I like where Kirby Smart's program is now. You cannot rule out Colorado, LSU or Miami, but Alabama is Georgia's biggest competition. Robinson said again over the weekend, "I will commit when I feel the time is right."
5-star WR Jeremiah Smith
The buzz: From the time Jeremiah Smith committed to Ohio State, he said he would take visits. Schools are not going to give up on a five-star playmaker like Smith. Florida, Georgia, Miami and Tennessee are schools Smith's named as the ones recruiting him hardest outside of Ohio State. It will still take a lot to flip Smith from the Buckeyes. His relationship with Brian Hartline is strong. The biggest threat looks to be Miami. It is a local school, a school Smith plans to take an official visit to and the Hurricanes have numerous staff members reaching out daily to the star out of Hollywood (Fla.) Chaminade-Madonna.
5-star S KJ Bolden
The buzz: KJ Bolden had the Ohio State media in attendance excited Saturday when he showed up in Buckeye sleeves and gloves. The Big Ten program is squarely in the mix for one of the top prospects in the 2024 class. Alabama and Georgia are up there too. The buzz has been around Georgia, the in-state program for Bolden, but he still has some big visits to take. He will be at Clemson next weekend and the Tigers will have a shot to make a move. Bolden will take his official visits in the spring and summer before making a decision before his senior season.
5-star ATH Jaylen Mbakwe
The buzz: Jaylen Mbakwe is starting to visit other schools, but there does not look to be any reason for Alabama to panic. He is an elite talent not far from Tuscaloosa, he attended almost every home game in the fall and he has real connections with coaches on the Alabama staff. Mbakwe will be at LSU next weekend. Miami is expected to receive an official visit. Colorado is another school he could visit. The No. 1 prospect in Alabama is still strong to the Crimson Tide.
5-star WR Joshisa Trader
The buzz: Joshisa Trader recently revealed his top five schools. Nothing has changed. The buzz this weekend was around the local program, Miami. There was a lot of talk this time a year ago about Trader and his teammate, Jeremiah Smith, playing together on the next level. That could still happen, but it is far from a done deal. Ohio State is on Trader's list, but the Hurricanes have a little momentum. He is close with almost the entire staff and that means something to him. Trader has visited Miami more than any other school and he will have his eye on the Hurricanes this fall. He does not plan to make a decision until late in the year.
4-star CB Charles Lester
The buzz: Clemson will get Charles Lester on campus next weekend and it will be his first time on the ACC program's campus. The Tigers were not in his top five, so this will be their chance to make a significant move for the defender out of Sarasota (Fla.) Riverview. Last weekend, Lester visited Florida and Florida State. The Seminoles have some momentum based on the intel I have picked up. He has visited Tallahassee double-digit times and Florida State was his dream school. It does not look like a decision is coming too soon, but Florida State has moved into a good position. Alabama, Georgia and Ohio State are still in the mix.
4-star ATH Quinton Martin
The buzz: Miami offered Quinton Martin on Sunday. He mentioned Florida as a school that is recruiting him hard as well. But this race is likely to come down to more of a regional battle. Martin is a national talent in Pennsylvania and Michigan, Ohio State and Penn State are in the thick of this race. One source over the weekend said Penn State could be a "slight favorite", but multiple schools are still being considered. He is working to cut his list to five schools in the coming months, then make a decision. Relationships with be a heavy factor in Martin's commitment.
4-star WR Aeryn Hampton
The buzz: Alabama is the leader for Aeryn Hampton. He was in Alabama gloves Saturday and the Crimson Tide are trending. Hampton is out of Daingerfield (Texas) and he was at one time a Texas commitment. Alabama has plenty of competition. He will visit Oregon next weekend for the first time. LSU and Nebraska are two more out-of-state schools in the mix. Texas is not going away either. Alabama is the school others are chasing, but this one could have a few more twists and turns before it is all said and done.
4-star QB Julian Sayin
The buzz: Ohio State offered Julian Sayin, so he was asked about that close to a million times this weekend. He seems set with Alabama right now. Miami is another school to keep an eye on. Saying feels good about the Crimson Tide at this time.
2025 4-star QB Bryce Underwood
The buzz: It is still very early for Bryce Underwood, an elite quarterback in the 2025 class out of Belleville (Mich.), but he is a name you will track in the coming months. He will be a national name and the in-state schools are off to a good start. Underwood has gotten very familiar with Michigan and Michigan State already and he is a top priority for both. He will be at Penn State next weekend. LSU will have him on campus early in March. Ohio State is a school mentioned with Underwood's name early as well. This one is in the infant stages.
More recruiting notes from Miami Battle 7v7