Micah Parsons, Kayvon Thibodeaux have crazy back and forth on social media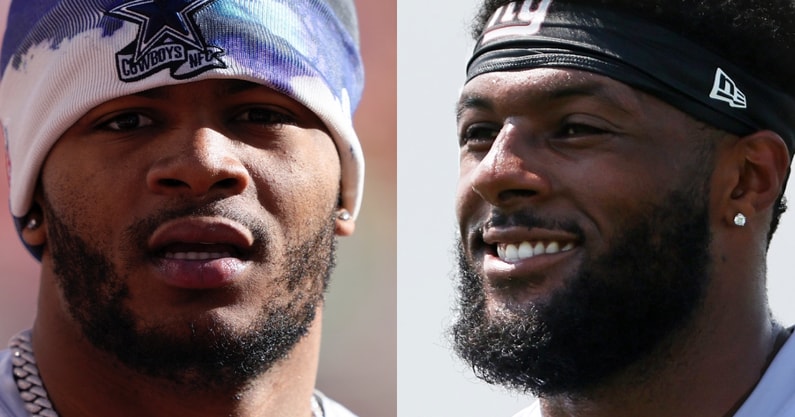 Micah Parsons and Kayvon Thibodeaux will be apart of some fantastic NFC East battles in their careers. However, their Twitter war is reaching must-see levels, as well.
Both the Cowboys linebacker and Giants pass rusher had their seasons end last weekend. Parsons at the hand of the San Francisco 49ers, Thibodeaux to the Philadelphia Eagles. While watching the game at home, the latter showed off some comedy chops while speaking about the opponent Parsons' squad fell to last weekend.
"Way this game look we might be better than the 49rs," Thibodeaux tweeted, accompanying three laughing-face emojis.
After Parsons responded with a shocked gif, Thibodeaux asked the Cowboys star what country he was in, to which he responded with a simple yet effective maneuver.
"I'm in America ! Getting ready for probowl lol hbu?" responded Parsons.
Alas, Thibodeaux had no hard feelings — he just wanted to get on the field in Las Vegas too.
I didn't make it but I'll be there supporting you!!!" tweeted the Giants star. "Catch a cold, I'm an alternate (laughing face emojis)."
Evidently, there's a mutual respect between the two stars, but there's some room for some jokes as well. Both will likely be rooting for the Kansas City Chiefs in the Super Bowl, so they can at least agree on that.
Micah Parsons shares passionate response to Cowboys playoff loss
Moreover, Micah Parsons' stellar season came to an end on a sour note last Sunday night with the 19-12 loss versus San Francisco. After taking the night to process the loss and the end of the Dallas Cowboys season, the second-year edge rusher took to Twitter to share a passionate mantra for the offseason.
"Live in a place where people praise your failures and criticize your success!" Parsons tweeted. "Find love within yourself!
Despite holding one of the league's most explosive offenses to 19 points, missed opportunities and a couple of key mistakes were enough to do the Cowboys in. Parsons finished the night with four tackles, including a half tackle for loss. It brought his postseason total up to seven tackles, one sack and 1.5 tackles for loss.
Like his teammates, the former Penn State star was clearly dejected after the final whistle.
"I hurt for the guys, I hurt for the fans," Parsons said postgame. "I hurt for myself. It just wasn't enough."
Although this seemed like the year the Cowboys would break their NFC championship game drought, there's no telling what the future holds. Parsons is still very early into his NFL career and already he's an influential voice for the defense. With his leadership, the Cowboys are in good hands.
On3's Nikki Chavanelle contributed to this article.