WATCH: Dallas Cowboys Micah Parsons makes good on Iowa-Penn State bet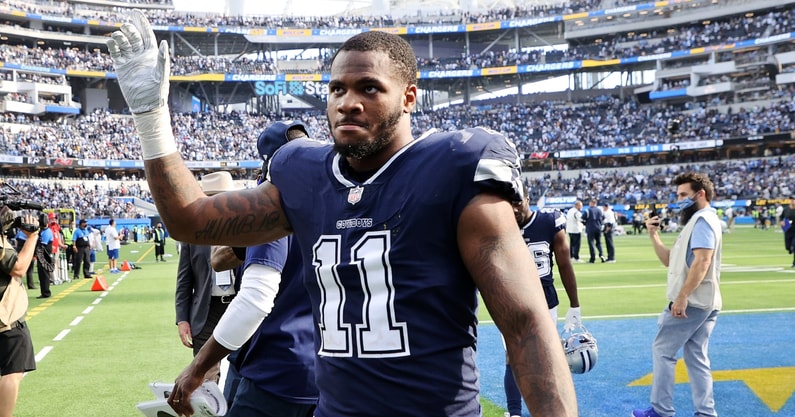 Micah Parsons is synonymous with Penn State and will go down as one of the top linebackers to ever play in State College.
While the former Nittany Lion has been beyond impressive in his first NFL season, he wasn't happy after Penn State fell 23-20 to Iowa last Saturday.
The Big Ten showdown had massive implications for the two teams competing — but based on Parsons' Instagram sorry—there were direct implications for the Dallas Cowboys Rookie as well.
It appears Parsons had a friendly bet on the line with his current Dallas Cowboys teammate, Chauncey Golston.
The Cowboys selected the Iowa Hawkeyes defensive end shortly after selecting Parsons in April's NFL Draft.
The video shows Parsons as he trots through the Dallas Cowboys facility rocking an actual No. 57 Golson Iowa Hawkeyes yellow jersey. It appears that former Ohio State stars Ezekiel Elliott and Malik Hooker are chiming in as well, alluding there may be yet another bet between Parsons and his Dallas Cowboys teammates who shined for the Buckeyes.
How Dan Quinn has Micah Parsons playing 'reckless'
On Wednesday, the Dallas Cowboys official team website published a piece that gave a glimpse into the unique relationship between defensive coordinator Dan Quinn and the former Nittany Lion.
Since just about the moment he was drafted, Quinn has been honing that eagerness in Parsons and shaping it into various ways he could unleash on offenses. The results have spoken for themselves: Parsons has 3.5 sacks and 20 tackles in five games.
Micah Parsons said on Wednesday that he was playing middle linebacker when he first showed up to Cowboys activities in the spring. Quinn told him he wanted to get him a rep along the defensive line and Parsons remembers putting "a good move on the tackle" and Quinn telling him "I like that." Then, in training camp, Quinn would pull Parsons aside to tell him "I want to see you do this…" before sticking him at defensive end or lining him up someplace he wasn't used to.
"I think he was just grooming me and grooming me until he could see that he believed in me," Parsons said.
The former Penn State linebacker continued.
"That's the type of relationship we have now, " said Parsons, who compared Quinn to Brent Pry, the defensive coordinator at Penn State who converted him from a high school defensive end to a college linebacker. "I built that trust in him. And I have trust that he'll always put me in a position where I can succeed and help the team succeed."
Michah Parsons is not even halfway into his rookie season, but it feels like he's a perfect fit in Dallas with a bright future ahead.