Micah Parsons shares passionate response to Cowboys playoff loss vs. 49ers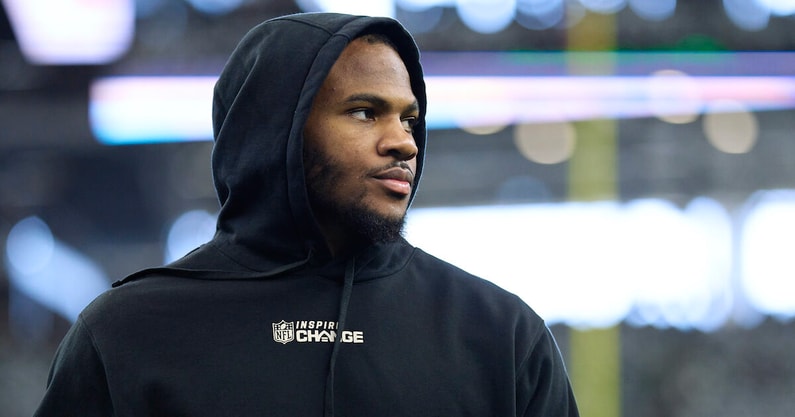 Micah Parsons' stellar season came to an end on a sour note on Sunday night with the 19-12 loss versus San Francisco. After taking the night to process the loss and the end of the Dallas Cowboys season, the second-year edge rusher took to Twitter to share a passionate mantra for the offseason.
"Live in a place where people praise your failures and criticize your success!" Parsons tweeted. "Find love within yourself!
Despite holding one of the league's most explosive offenses to 19 points, missed opportunities and a couple of key mistakes were enough to do the Cowboys in. Parsons finished the night with four tackles, including a half tackle for loss. It brought his postseason total up to seven tackles, one sack and 1.5 tackles for loss.
Like his teammates, the former Penn State star was clearly dejected after the final whistle.
"I hurt for the guys, I hurt for the fans," Parsons said postgame. "I hurt for myself. It just wasn't enough."
Although this seemed like the year the Cowboys would break their NFC championship game drought, there's no telling what the future holds. Parsons is still very early into his NFL career and already he's an influential voice for the defense. With his leadership, the Cowboys are in good hands.
Jayron Kearse plays through pain for Cowboys
Dallas safety Jayron Kearse had numerous injury scares this season but even while playing through an MCL sprain, he returned to the field time and time again.
After the loss to the 49ers, Dallas Morning News reporter Michael Gehlken revealed that the former Clemson standout was playing through more than just an MCL sprain over the past few weeks.
On top of rehabbing his leg, Kearse will also need offseason shoulder surgery for a labrum tear.
"Jayron Kearse dealt with fluid in his knee and calf. He has an MCL sprain," Gehlken tweeted after the game. "Now, he needs shoulder surgery for a labrum tear through which he's quietly played for several weeks."
Kearse was in tears leaving the Cowboys' locker room and struggled to put his feelings into words.
"It's tough … it's tough … it's tough … when you know you were close to winning the game," Kearse said postgame. "Just falling short to the same team two years in a row. You've got to make plays when you have opportunities to make plays. We didn't make them and they did tonight."