Like 'butter on bread': QB Michael Penix Jr. a perfect fit at Washington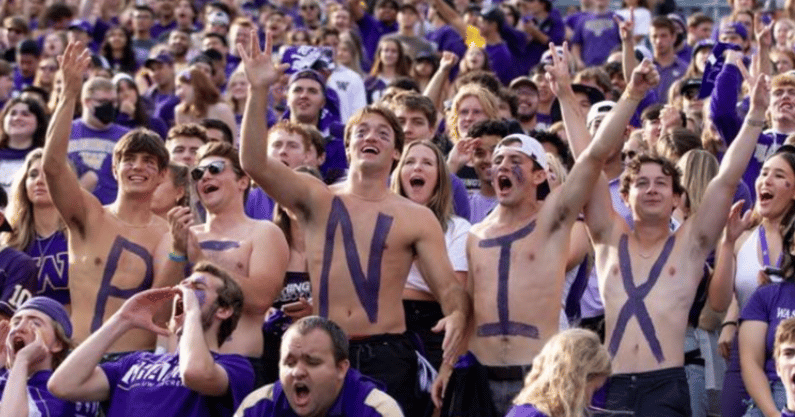 SEATTLE – Three games into the Kalen DeBoer Era at Washington, Husky Stadium is raucous again. It got so rowdy Saturday night, when the Huskies embarrassed Michigan State before God, Chris Fowler and everybody, that the fans spooked Dubs II, the Husky mascot. The 4-year-old Alaskan Malamute got stepped on during the celebrations Saturday night, so his handler brought Dubs II back to the stadium during practice Tuesday to make sure he felt at home.
You have to excuse Dubs II. Two years ago, in the pandemic season, he patrolled the sideline in a stadium without fans. During last season's 4-8 debacle, he did his job in a stadium without cheering fans. As Stanford will find out Saturday night, Huskies fans are cheering now.
It has taken only three games under DeBoer for Washington to rediscover the vibe of Purple Reign, in large part because DeBoer rediscovered a quarterback. Michael Penix Jr. spent the past four seasons at Indiana, one of them (2019) with DeBoer as his offensive coordinator; DeBoer left to become coach at Fresno State after the season. So far this season, they've enjoyed the most successful reunion since Bennifer.
Penix is the reigning Davey O'Brien National Quarterback of the Week after throwing for 397 yards and four touchdowns in the 39-28 victory over the Spartans (the embarrassing part was the 22-0 lead in the second quarter and the 39-14 lead in the fourth). In an age when nearly half the players who go into the transfer portal don't get a scholarship offer, the 6-foot-3, 214-pound lefthander is a reminder of how well the portal can work for player and team.
"You want to go somewhere you can excel, where you feel comfortable," Penix said. "You don't want to feel like you're somewhere you don't want to be."
Last December, Penix didn't want to be in Bloomington any longer. He had become famous at Indiana for two things: 1. His pylon-scraping dive for a two-point conversion in overtime against Penn State in the 2020 opener (a score still not recognized in central Pennsylvania), and 2) Getting hurt. Penix has yet to start more than six games in a season.
In an age when quarterbacks arrive as freshmen ready to play and leave after three seasons to play on Sunday, an experienced fifth-year quarterback who knows the offensive system is no longer the norm. For a coach in his first season in a program, when the expectation is that your team will need a good chunk of the season just to learn how to run your system, having an offense run as seamlessly as the Huskies' is rarer still. Thank you, transfer portal.
After last season, Penix visited UCF, a short drive from his hometown of Tampa. But once DeBoer contacted him, Penix chose the school 3,060 miles from home. Penix and DeBoer already trusted each other, which is more than half the battle.
"You have to have a good bond," Penix said, "and he always put me in position to be successful on the field. I knew I wanted to be a part of that again."
When DeBoer arrived at Washington from Fresno State, he discovered a roster with only two scholarship quarterbacks. DeBoer wanted to bring in someone who had played. He found someone who had played in his system.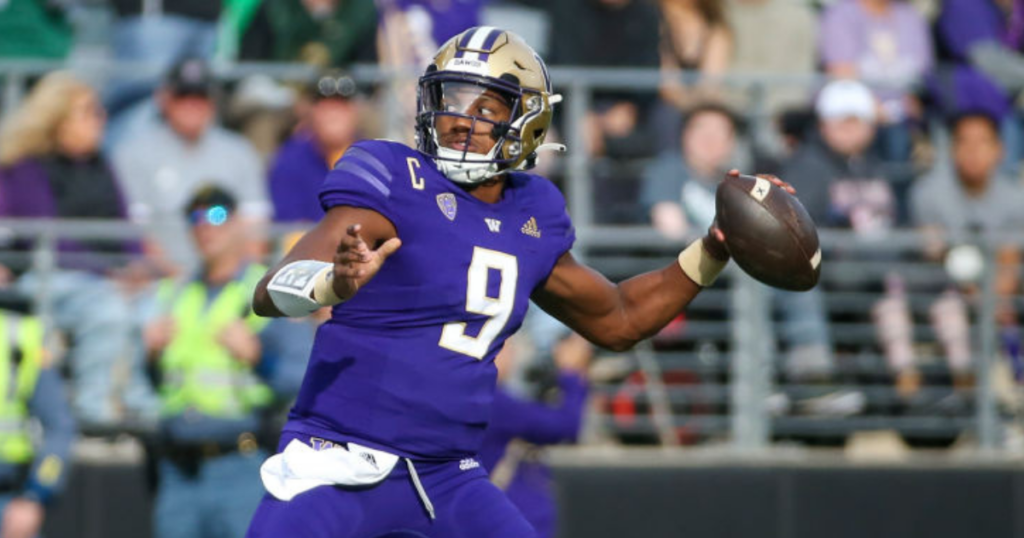 "Knowing Michael's in the portal, you get one shot to knock it out of the park," DeBoer, sitting in athletic director Jen Cohen's suite in the west end zone, said after practice Tuesday. But he isn't sold on his offense being the magic elixir for Penix. "When you're talented like him, you can pretty much make any system fit," DeBoer said.
Penix's knowledge of the offense allowed him to bypass a lot of the awkward moments a transfer may feel at walking into a strange locker room. The Huskies recognized he could help them. "It felt like I had been here a long time," Penix said. "Those guys made me feel like they wanted me here."
Third-year receiver Ja'Lynn Polk, who already has six receptions of at least 20 yards, ran to his computer to check out Penix before he arrived. He liked what he saw. He likes it even more now that they are together, a combination Polk described as "butter on bread."
There are the throws that make anyone raise their eyebrows and drop their jaw, like Penix's 19-yard bullet to running back Wayne Taulapapa for a touchdown in the second quarter against Michigan State. Penix squeezed the ball between Taulapapa and the front right pylon. "The location of the ball was unreal," DeBoer said, "and it was on a line."
And there are the throws that are impressive only if you know what made Penix throw them, like the 4-yard touchdown to Rome Odunze in the season-opening 45-20 rout of Kent State. Penix saw that Odunze had single coverage and took advantage of it.
"Mike's identifying pressures and coverages and making the checks he needs to make like we've been doing it half the season," DeBoer said. "I'm on the headphones, and pretty much as Ryan (offensive coordinator Grubb) is seeing it, Mike's checking into it on the football field."
The most important statistic for Penix may not be the 10 touchdown passes, or the 1,079 passing yards, or the Huskies' 3-0 record. It may be that his new friends on the offensive line have not allowed him to be sacked. At Indiana, he alternated season-ending ACL tears (2018, 2020) with season-ending upper-body injuries (sternoclavicular joint, 2019; separated shoulder, 2021).
Penix has been injured so much that this week he received a nomination for the 2022 Capital One Orange Bowl-FWAA Courage Award, given to a player who overcomes an ordeal and keeps going. Penix doesn't feel fragile or courageous. He feels unlucky. "Things happen," Penix said. "I went through a lot of injuries. Just trying to stay level-headed, not focus on those things."
He never lost his confidence. "I know myself; I know what I'm capable of, all the God-given abilities I have," Penix said. "I couldn't wait to show it again, just stay on the field and be healthy."
There's an easygoing side to Penix. He is friendly, he is polite, and none of those traits are at the top of traits to look for in a quarterback. On the field, though, Taulapapa, a grad transfer from Virginia, described Penix in the huddle as "very commanding. He's always clear about what he wants out of each and every one of us."
The shadow of Penix's past looms. He has made it past the first weekend of November only once in his four previous seasons. Maybe the better description is that Washington hopes Penix's injuries are the dog that doesn't bark. Like Dubs II, Penix is playing in a strange but exciting place.