Michigan, Tennessee, and more expected in for 4-star Jaeden Mustaf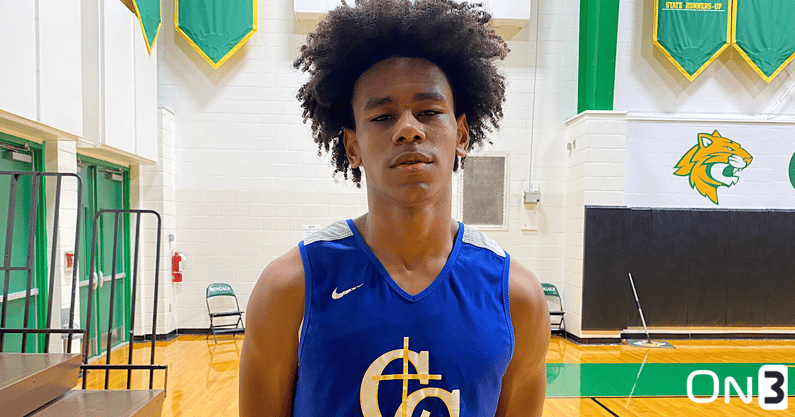 Ohio State, Tennessee, and Michigan will be by Matthews (NC) Carmel Christian tomorrow to see four-star Jaeden Mustaf.
**Jaeden Mustaf sets first official visit
Mustaf is On3's No. 43 ranked player in the 2024 class. The 6-foot-5 guard was the MVP of the Adidas 3SSB Circuit 17u championships. Playing up in age for the New World program, Mustaf lead his team in scoring (12.7) while shooting 48.5 percent from the field and averaging 4.6 rebounds and 2.4 steals per game.
Already this week NC State, Kansas, and Miami have been in to see Mustaf. Indiana, Wake Forest, Florida State, Vanderbilt, West Virginia, Georgia, and Virginia Tech were among the programs in to see the four-star the first week of the Fall live recruiting period.
Mustaf, who transferred to Matthews (NC) Carmel Christian this summer, claims 20 offers. His father, Jerrod Mustaf, played at Maryland and was the No. 17 pick in the 1990 NBA Draft.
Mustaf scouting report
Jaeden Mustaf is a big-bodied wing who plays with a straight-line burst. He is a jack-of-all-trades type of wing who can handle, shoot, and pass, playing multiple positions on the floor. Mustaf is a good team defender and rebounds well for his wing position. The jump shot needs work as it is streaky and a push shot right now, but he makes some. As a long-armed 6-foot-5 wing, there are many things teams can do with Mustaf. He is a triple-double threat each time he steps on the floor. His father, Jerrod Mustaf, was a first-round NBA draft pick in 1990.