Michigan-Penn State records eye-opening television ratings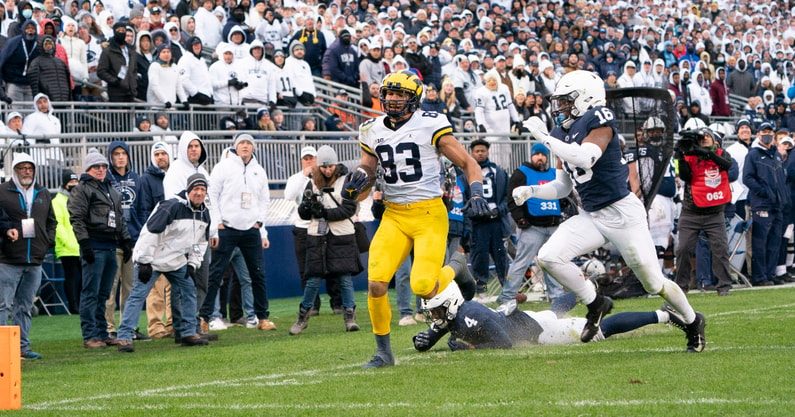 Michigan-Penn State drew plenty of hype on Saturday, and in a close game that saw the Wolverines prevail 21-17, it seemed to be for good reason.
Michigan and Penn State kept it close until the very end, and as a result, the game did a fantastic job of keeping eyes glued to the game. In fact, Michigan-Penn State — which was broadcast on ABC — was Saturday's most-watched game, tallying 5.9 million viewers.
Michigan and Penn State's 5.9 million viewers narrowly edged out Georgia-Tennessee on CBS for the top spot, which had 5.8 million viewers. Behind that game, in third place, was Purdue-Ohio State on ABC, which recorded 4.7 million viewers.
Michigan's narrow win over Penn State contributed to ABC's most-watched November Saturday since 2016.
The Michigan-Penn State matchup was one of many close games broadcast on ABC in the past several weeks, making the record-breaking November Saturday performance even more eye-opening. Just last week, Alabama's narrow win over LSU averaged five million viewers, which at the time was a record in its own right.
Jim Harbaugh after Michigan win over Penn State: 'This team doesn't flinch'
Saturday's road game against the 6-4 Penn State Nittany Lions seemed like the type of game that Jim Harbaugh had struggled to win in years past at Michigan.
This year, Harbaugh's Wolverines were 8-1 entering Saturday. Their only loss came against then-undefeated Michigan State, so the expectations — despite playing a tough road-game environment at Happy Valley — were as high as ever. Harbaugh's Michigan teams have crumbled in big-time games throughout his seven-year tenure at Michigan, a time in which the Wolverines possess a 57-23 record and yet still seem to have underperformed. But not Saturday.
The Wolverines overcame an abysmal first-half offensive effort in which Harbaugh's unit converted on just 43 percent of third downs, while averaging 2.7 yards per carry, by scoring 14 second-half points to beat Penn State 21-17. After the potential season-defining win, which sets up Michigan for a battle of the one-loss Big Ten teams against Ohio State in two weeks (provided that Michigan beats Maryland next week), Harbaugh sang high praise for the 2021 Wolverines team.
"I was real confident they would," Harbaugh said of Michigan's second-half revival. "This team doesn't flinch. They don't even bat an eye when stuff happens. You can see it in our defense when a turnover occurred and they got the ball at the 16-yard line. We went out there and held them again in the redzone, which was really good all day for our defense. And then offensively, I could just see the demeanor. You could see the offensive line, no flinching."
Michigan quarterback Cade McNamara stepped up when it mattered most, completing a 47-yard touchdown pass to tight end Erick All — who played through pain, later revealing that his ankle was still sore from Michigan's loss to Michigan State — with 3:29 left, solidifying Michigan's 21-17 victory over the Nittany Lions.
"I just said, 'Hey, Cade, you were born for this. Born for drives like this,"" Harbaugh said, discussing his quarterback's game-winner. "Then he went out there and he did what he does. Very cold-blooded."
Michigan's defense helped out all game, too. Though Penn State converted on four of six fourth-down attempts, the Wolverines unit turned in two crucial stops late in the game. Harbaugh's defense also notched seven sacks on the contest, contributing to 12 tackles for a loss].
With the win, Michigan (No. 6 in the College Football Playoff rankings) not only improved to 9-1 on the 2021 campaign, but the Wolverines also snapped a two-game skid to James Franklin and Penn State.