Mike Young credits Clemson's PJ Hall after Saturday's game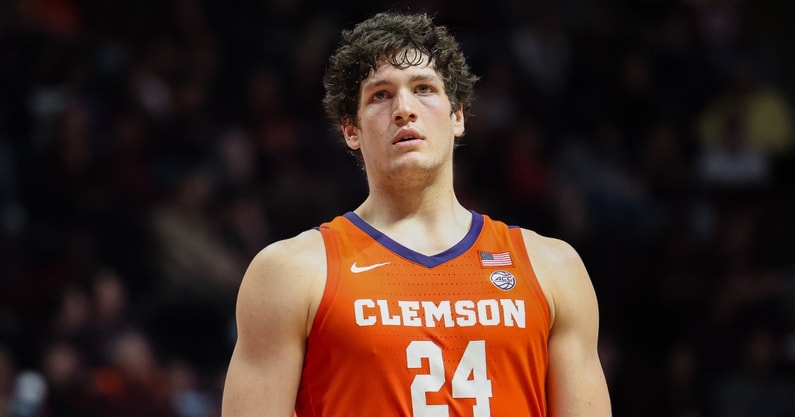 Virginia Tech head coach Mike Young has been watching Clemson forward PJ Hall play basketball for years. Not just in the ACC, either. Young coached Hall's father, Jerome Hall, at Wofford and has known the younger Hall since his childhood."
"His dad played for me," Young said. "He's a lot better than his old man. His dad was a very good player. We were Division II when Jerome was with us. We had really good teams. That was early in my time at Wofford 1989, 90, 91."
After last season's breakout, Hall has become one of the most important cogs in the Clemson machine.
Hall is averaging 14.0 points per game on 51.6% shooting from the field and 39.0% from beyond the arc. He is also grabbing 4.9 rebounds and leads the team in blocked shots.
"He's come on here like gangbusters," Young said. "I think he had a very good year a year ago. He's just so much stronger and bigger. It really gives you heartburn off of that high ball screen stuff…(If) he gets his feet on the ground, he's dynamite. His work around the basket. He's big. He's got beautiful touch. He's always had a beautiful touch."
Mike Young says he is proud of PJ Hall
PJ Hall gave Mike Young and the Hokies the full kitchen of his game in Saturday's game. Hall had a game-high 20 points on 7-for-15 shooting and added eight rebounds.
Clemson won the game, 51-50.
"I can remember him coming to camp," Young said. "My son is the same age as him and played a lot of travel baseball and that sort of thing. I'm proud of PJ. I hate like crazy he beat my tail today. But I'm proud of him. I think the world of his family there. They're wonderful people."