Justin Jefferson breaks NFL, Odell Beckham Jr. receiving record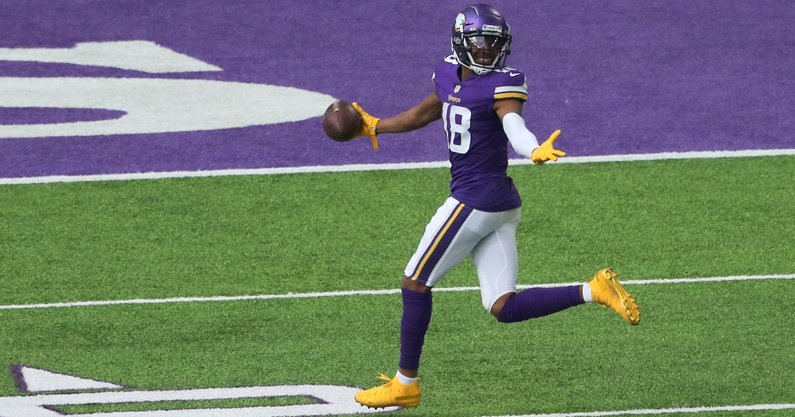 Minnesota Vikings wide receiver Justin Jefferson has been on a tear ever since he first stepped foot into the NFL. While he had already tallied 89 receptions for 1,335 yards and nine touchdowns coming into Sunday's game against the Los Angeles Rams, Jefferson continued to play at a high level and set a new league record.
Currently with six catches for 84 yards late in the third quarter against the Rams, Jefferson has passed Odell Beckham Jr. in the category of most receiving yards in a player's first two years in the NFL. While Beckham had 2,755, Jefferson passed that earlier in the game with 2,758 – and that number is continuing to rise.
Jefferson – the 22nd overall pick in the 2020 NFL Draft out of LSU – came into Sunday's game with 2,735 yards and 16 touchdowns on 177 receptions over his first two NFL seasons.
Minnesota currently trails Los Angeles 20-13 heading into the fourth quarter at U.S. Bank Stadium in Minneapolis. FOX is carrying the national broadcast.
Justin Jefferson on his rookie record, season of Ja'Marr Chase
Minnesota Vikings wide receiver Justin Jefferson said he hopes Bengals receiver Ja'Marr Chase breaks the record for receiving yards by a rookie, according to ESPN's Courtney Cronin. Jefferson broke the record last year with 1,400 yards.
"He's been doing a great job," Jefferson said of Chase. "He's killing it, especially having Joe [Burrow], his college quarterback. I'm proud of him and of Joe and I hope he does break it."
Jefferson and Chase were teammates at LSU, where they won the national championship together in 2019. Chase led the team with 1,780 yards, while Jefferson was a close second with 1,540. Jefferson led the team with 111 receptions while the two combined for 38 touchdowns.
The Vikings selected Jefferson in the first round of the 2020 NFL Draft, while Chase returned to Baton Rouge. Even after the latter opted out of the 2020 season, he was taken No. 5 overall in the 2021 draft.
On3's Chandler Vessels contributed to this report.