Missouri 2023 DL prospect Edric Hill adds Indiana offer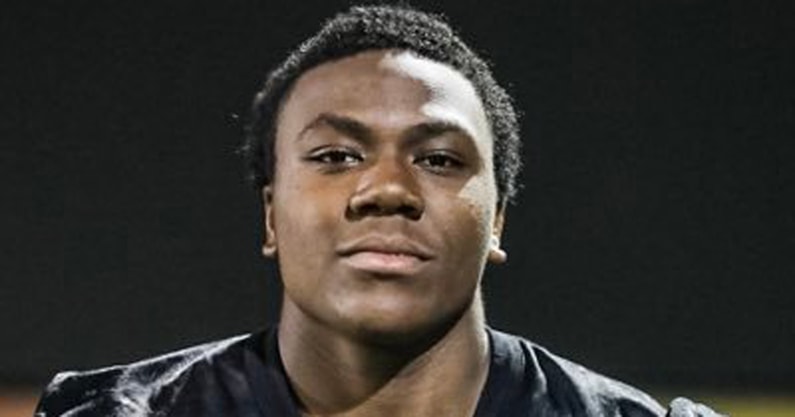 One of the top juniors in the Show-Me State has racked up another scholarship offer.

Edric Hill, a 6-foot-3, 271-pound defensive lineman from North Kansas City (Mo.) High School, added a scholarship offer from Indiana on Saturday.
Hill is a consensus four-star recruit with double-digit offers from Indiana, Colorado, Nebraska, Oklahoma State, Missouri, Wisconsin, Kentucky, Washington State, Miami of Ohio, Minnesota, Iowa, Iowa State, Kansas and K-State.
Edric Hill taking process slowly
North Kansas City coach Leon Douglas said Hill is a gifted athlete. He also said Hill is handling the recruiting process in stride. Douglas said Hill isn't going to be in a rush to make a college decision.
Hill said he appreciates the support from his high school coaching staff. That support is helping him figure the process out.
Hill is just one part of what is one of the most impressive defensive lines not just in Kansas City but also throughout the entire country.
Along with Hill, North Kansas City is home to high-major defensive tackle prospect Dominque Orange, who has more than 20 scholarship offers from top teams like Florida State, Georgia, Illinois, Iowa and Iowa State.
North Kansas City is also home to 2023 EDGE prospect Adepoju Adebawore, who recently added a scholarship offer from Iowa State.
Hill's North Kansas City squad is 1-1 on the season. In Week 1, the Hornets lost to Suburban Red foe Raytown 35-14. But last Friday night, North Kansas City rebounded with a 38-0 victory over St. Joseph Central. Hill had seven tackles and 1.5 sacks in the victory, but in Week 1 he had 7.5 tackles and 3.5 tackles for a loss.
Up next is Fort Osage, but a lot of attention is already being placed on the Sept. 17 matchup against Platte County.
Platte County is home to four-star junior EDGE Chandavian Bradley, who ranks as the No. 40 player in the 2023 On3 Top 100. The matchup between the Pirates and the Hornets is already being billed as one of the games of the season in Kansas City.