A nice payday and a win over a ranked team? Montana feeling pretty good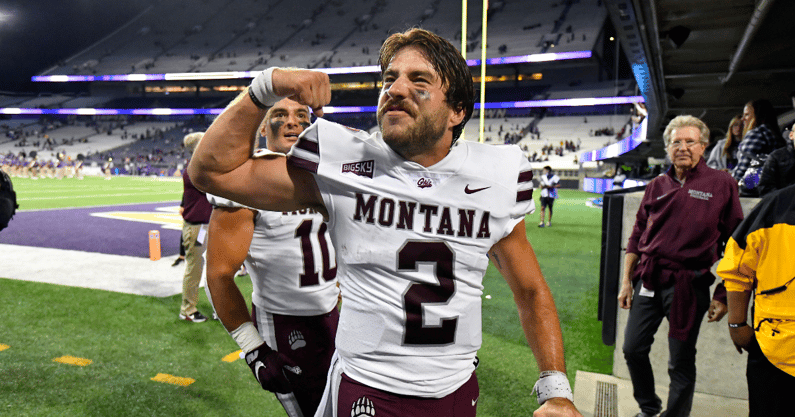 When an anticipated capacity crowd of more than 25,000 fans file into Washington-Grizzly Stadium on Saturday, they'll be eager to see what the University of Montana can do for an encore.
The FCS Grizzlies who play Western Illinois on Saturday, are less than a week removed from their stunning 13-7 victory at then-No. 20 Washington, earning their first-ever victory over a ranked FBS team. In fact, the win marked just the sixth time a FCS team (formerly I-AA) beat a ranked FBS team since 1983, when Division I split into two divisions. And the timing could not have been more opportune for Montana.
The ongoing pandemic has served as a financial stress test for the ages throughout all of college athletics. Although they don't rely on tens of millions of dollars in annual ticket sales revenue like many Power 5 teams, teams at the FCS level weren't immune. A peek into Montana's challenging year only underscores what the Washington victory means to the university financially and overall. 
The Big Sky Conference moved the football season from the fall of 2020 to the spring of 2021, and Montana athletic director Kent Haslam told On3 he was bracing for a $6 million athletic department deficit in the fiscal year of 2020-21. 
Montana's annual athletic budget is roughly $23 million. Haslam said Montana is the least-subsidized FCS program in the nation and generates the bulk of its revenue primarily through football. It has a season-ticket base of some 18,000 and generates $8 million in football ticket and ancillary revenue. With some belt-tightening and furloughs, plus the ability to play two games this spring, that deficit was reduced to $3 million.
"It's been a real strain on our athletic department," Haslam said. "There was no way to know how to navigate this. We'd never done it before. But the impact is significant."
Montana doesn't play many so-called "guarantee games" against FBS teams because it has robust fan support in Missoula and doesn't want to squander opportunities for gate revenue. But when an FBS school offers at least $600,000 to play at their stadium, it's worth it. The Grizzlies received a much-needed $675,000 to play at Washington, one of the biggest paydays for a FCS team this year. Earning the victory made the trip even sweeter, attracting publicity that the university couldn't dream of paying for.
"No, you couldn't" pay for that, Haslam said. "All the social media, all of the attention that comes through that, you can't put a value on that. For $675,000, that was one that we were counting on, those tangible dollars. Those are things that are important to us, especially coming out of a pandemic. But the ancillary publicity is something that is extremely valuable."
Montana also received $85,000 this past winter from playing at Washington in men's basketball, an industry source said — and the Grizzlies won that one, too.
FCS already has 6 wins vs. FBS teams
To date, FCS teams already have won six games against FBS teams this season, including three — Montana over Washington, Eastern Washington over UNLV in double overtime and UC-Davis over Tulsa — from Big Sky teams alone. Big Sky commissioner Tom Wistrcill attended the Eastern Washington victory last Thursday as well as the Montana game, and engaged in his share of post-game hugs with overjoyed team officials. 
Wistrcill still was running on adrenaline during a phone interview this week. He said the victories further solidify the Big Sky as the deepest FCS conference. He recalled that during warm-ups, Washington "looked like an NFL team, so when you can beat them on their home field, that's a hell of an accomplishment."
Last spring, six Big Sky teams opted out of playing in the spring altogether; others, like Montana, played limited schedules. While Wistrcill said the financial impact was "pretty strong," it still didn't compare with the loss of tens of millions of dollars in ticket revenue some Power 5 schools suffered. 
"It was painful, but I think we rebounded pretty quickly," Wistrcill said, adding that season ticket numbers are up at nearly every school in the Big Sky.
The league usually distributes between $500,000 and $600,000 annually to each of its schools. 
"Our financial model is the same at almost every one of our schools," he said. "About 75 to 80 percent of our funding comes from the university. We always need to find ways to validate what we're doing, and we look at athletics as the marketing arm of the university. More people come in touch with the university the first time through athletics than any other medium. We are very proud of that. Anytime we get a chance to have success and media attention that comes to us through the athletic department, that's a really big thing for our schools."
The oft-used cliché is that sports is the front porch of the university. To that end, the spotlight on Montana certainly is welcomed after a trying financial year. 
"The payday is great," Haslam said. "The win and the payday is even better."